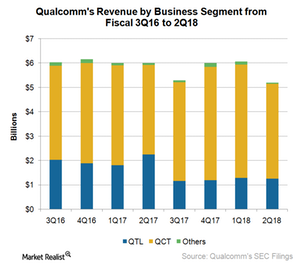 Understanding Qualcomm's Revenue Seasonality
Qualcomm's revenue streams
Qualcomm (QCOM) is a major player in the smartphone chipset market and is dependent on this market for its earnings. The company has the industry's most advanced modem technology, which allows it to license it to other OEMs (original equipment manufacturers) for a fee.
The company also supplies Snapdragon SoCs (system-on-chips) for smartphones. It reports its chipset earnings under the QCT (Qualcomm Code-Division Multiple Access Technology) segment and its licensing revenues under the QTL (Qualcomm Technology Licensing) segment. The company has been diversifying into adjacent markets such as IoT (Internet of Things), servers, laptops, and automotive. However, the revenues from this market have been very low.
Article continues below advertisement
Qualcomm's revenue seasonality
Although the smartphone market is seasonal, Qualcomm's unique business model keeps its earnings high. Qualcomm earns 60.0%–70.0% of its revenues from QCT and 30.0%–40.0% of its revenues from QTL. This percentage varies due to seasonality.
Fiscal 1Q is a seasonally strong quarter for QCT, as it reports holiday season sales. In fiscal 1Q, QCT comprises more than 70.0% of Qualcomm's revenues. However, fiscal 2Q is a seasonally strong quarter for QTL, as the company collects licensing fees on the number of smartphones sold in fiscal 1Q. At this time, QTL comprises 35.0% of the company's revenues.
Fiscal 2Q18 revenues
Overall, fiscal 2Q is a slightly slow quarter for Qualcomm's revenues with a sequential decline in the low- to mid-single digits. However, the company's revenues fell 14.3% sequentially to ~$5.3 billion in fiscal 2Q18.
As seen from the chart above, its overall revenues fell more than $700.0 million in 3Q17, as Apple halted its licensing revenues. Qualcomm is looking to settle the dispute with Apple. Apple's CEO, Tim Cook, has agreed to give a deposition on the licensing dispute on June 27.
Next, we'll see whether Qualcomm can expect to see improvement in the second half of fiscal 2018.
Check out all the data we have added to our quote pages. Now you can get a valuation snapshot, earnings and revenue estimates, and historical data as well as dividend info. Take a look!