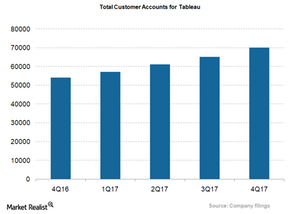 Tableau Software's Growing Client Portfolio
By Aaron Hemsworth

Apr. 13 2018, Updated 10:30 a.m. ET
Factors driving client additions
The higher usage of data in every industry has helped Tableau Software (DATA) realize strong growth in its customer base. A strong product pipeline and the company's service organization have driven its customer growth. Moreover, a change in the company's payment plan from an upfront model to a subscription-based model has attracted more clients to the company.
The increasing usage of data analytics in international markets, coupled with technology partnerships with database vendors such as Amazon (AMZN), Cloudera (CLDR), Microsoft (MSFT), and Teradata (TDC), may drive the company's client portfolio.
In the graph above, we can see Tableau Software's customer growth in the last five quarters. During this period, its client portfolio expanded at a CAGR (compound annual growth rate) of 6.7%. The company exited fiscal 2017 with 70,000 customers compared with 54,000 in fiscal 2016.
Article continues below advertisement
Deal sizes above $1 million
In fiscal 2017, Tableau Software (DATA) added ~16,100 new customers at an average of ~4,025 clients per quarter. In comparison, it added 15,000 customers in fiscal 2016 at an average of 3,750 per quarter. In the last five quarters, its total customer additions grew at a CAGR of 4.1%.
The overall client size increased 3.4% YoY (year-over-year) in fiscal 2Q18 while it grew at a CAGR of 0.8% in the last five quarters. In fiscal 2017, its active customers stood at 1,162, up 6.0% YoY. In the last five years, its customer count grew at a CAGR of 9.9%.
In 4Q17, the company struck 27 deals larger than a $1.0 million ticket size, compared with 25 such contracts in 4Q16. In fiscal 2017, Tableau Software won 65 deals above $1.0 million at an average of 16 contracts per quarter, compared with 61 deals struck in fiscal 2016.