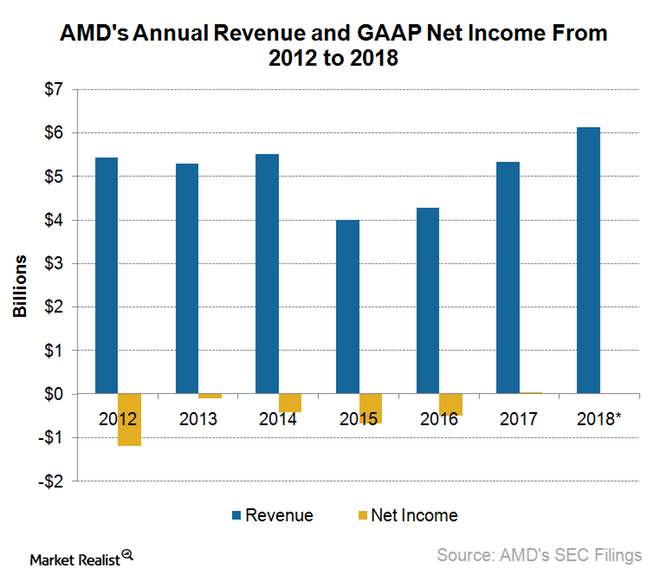 Is Advanced Micro Devices Stock Undervalued?
AMD stock under pressure
The US stock market has seen increased volatility since late January 2018. The S&P 500 index has fallen 2% YTD (year-to-date) and is trading 7.5% below its 2018 peak since investors have been rattled by a number of concerns.
Chipmaker Advanced Micro Devices (AMD) stock has fallen 9.1% YTD and 30% from its high in 2018. The stock has underperformed recently due to the possibility of tariffs, given its massive data center partnerships with Chinese companies. The stock rebounded 4.7% on Tuesday, April 10, 2018, after the trade war between the United States and China cooled down.
Article continues below advertisement
AMD stock seems reasonably valued
Like Nvidia (NVDA), AMD stock has fallen after cryptocurrency prices tumbled. Investors poured money into these stocks as the demand from cryptocurrency miners increased. However, as those prices tanked, so did the stocks.
That said, cryptocurrency mining doesn't make up a significant portion of AMD's revenue. Its revenue grew 34% in 4Q17 from the same quarter last year, driven by a 60% year-over-year growth in its computer and graphics division.
The chipmaker saw strong demand for its Ryzen CPUs and its Polaris and Vega GPUs across all consumer segments.
In 2017, Nvidia's revenues rose 25% from 2016, driven by a 54% growth in its computer and gaming revenue. The company's long-term narrative remains positive, given its strong position in IoT (Internet-of-Things), AI (artificial intelligence), and next-generation gaming.
Be sure to check out all the data we've added to our quote pages. Now you can get a valuation snapshot, earnings and revenue estimates, and historical data, as well as dividend information. Take a look!