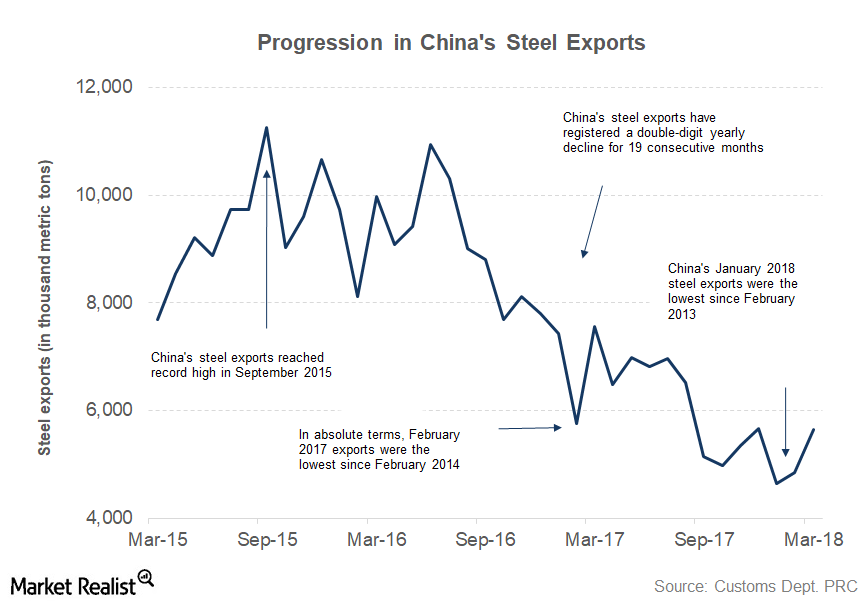 Iron Ore and Steel Scrap Prices Diverge after Section 232 Tariffs
Iron ore
Iron ore and steel scrap are the key steelmaking raw materials. In the United States, steel prices and scrap prices tend to move in tandem. On the other hand, Chinese steel and seaborne iron ore prices usually mirror each other. Companies like U.S. Steel Corporation (X) and AK Steel (AKS) use mainly iron ore to feed their blast furnaces. ArcelorMittal (MT) operates a mix of blast furnaces and electric arc furnaces.
Article continues below advertisement
Divergence
Generally, we don't see much divergence in iron ore and steel scrap prices. Notably, companies using steel scrap like Nucor (NUE) and Steel Dynamics (STLD) can switch to DRI (direct reduced iron) if the economies of using iron ore as a scarp substitute look better.
However, we've seen some dislocation in steel raw material markets this year. Seaborne iron ore prices have come under pressure. Chinese steel prices are also off their highs as trade war fears have spooked investors. Looking at the US steel markets, steel scrap prices have shown strength. Along with high US steel prices, rising domestic steel production seems to be supporting scrap prices.
Turkey
After the Section 232 tariffs, Turkish steel exports to the United States are expected to fall further. While the country is among the major steel exporters to the United States, it's also the biggest overseas buyer of US steel scrap. Turkish demand for US steel scrap could fall after the Section 232 tariffs. However, we might not see a major pressure on scrap prices as the scarp might be galloped by US steel mills.
As for iron ore, we would have to see how Chinese steel demand plays out over the course of the year. So far, the demand environment has been weak and sent ripples across global steel markets. Chinese steel exports have been on a falling spree on strong domestic demand. They also rose on a month-over-month basis last month. See Has Trump's Tough Trade Talk Started to Bite China for a detailed analysis of China's March trade data.
Check out all the data we've added to our quote pages. Now you can get a valuation snapshot, earnings and revenue estimates, and historical data as well as dividend info. Take a look!