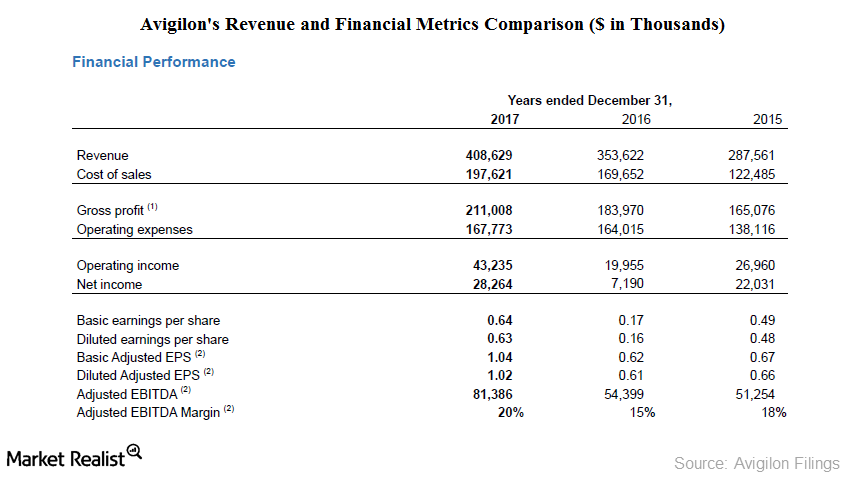 How Will Acquiring Avigilon Benefit Motorola?
By Adam Rogers

May. 1 2018, Updated 9:02 a.m. ET
Acquisition valued at $1 billion
Last month, Motorola Solutions (MSI) announced that it had completed the acquisition of Avigilon, an advanced video surveillance and analytics company. Avigilon will provide end-to-end video capabilities and analytics services for MSI's commercial and public safety customers.
MSI expects this acquisition to expand its total addressable market, which is currently valued at $10 billion. Video capabilities are now growing in importance for public safety customers, and there's been a rising aversion to using Chinese (FXI) service provider systems for critical video surveillance, which could benefit MSI over the next few years.
Article continues below advertisement
Revenue of $408.6 million for Avigilon in 2017
In the table above, we can see that Avigilon's revenue rose from $287.6 million in 2015 to $353.6 million in 2016 and $408.6 million in 2017, indicating revenue growth of 23% YoY (year-over-year) in 2016 and 16% YoY in 2017.
Avigilon's gross profit rose 11.4% YoY to $184.0 million in 2016 and 14.7% YoY to $211 million in 2017. Comparatively, its operating profit fell 26% to $20.0 million in 2016 and then over 115% to $43.2 million in 2017, while its net income rose almost 300% in 2017 to $28.3 million after falling over 67% in 2016.
Avigilon has an operating margin of 10.6% compared to 24.3% for MSI. While Avigilon's lower profit margins are likely to impact MSI's bottom line, this acquisition is also expected to drive long-term revenue for the company.
The acquisition deal has been valued at $1 billion.