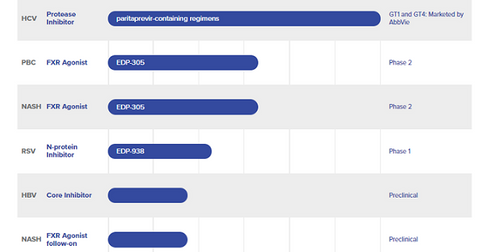 Exploring Enanta Pharmaceuticals' Product Pipeline
By Kenneth Smith

Apr. 6 2018, Updated 5:02 p.m. ET
NASH and PBC
Enanta Pharmaceuticals (ENTA) is working on multiple compounds that selectively bind to and activate the farnesoid X receptor (or FXR). As the company's lead FXR agonist, EDP-305 is designed to take advantage of increased binding interactions with the receptor.
Enanta Pharmaceuticals initiated a Phase 2 clinical study of EDP-305 in PBC patients in December 2017 and has also recently initiated recruitment of a Phase 2 study of EDP-305 in non-alcoholic steatohepatitis (or NASH) patients. 
Notably, the compound has been granted fast-track designation by the FDA for treating NASH patients with liver fibrosis and separately for treating primary biliary cholangitis (or PBC). According to the company, NASH affects ~6.0 million people in the US.
Article continues below advertisement
RSV
Enanta Pharmaceuticals' EDP-938 is a potent N-protein inhibitor of activity of subgroups of respiratory syncytial virus (or RSV), RSV-A and RSV-B. The company believes EDP-938 is differentiated from fusion inhibitors that are currently under development for RSV. N-protein inhibitors directly target the viral replication process of RSV and demonstrate high barriers to resistance against RSV in vitro.
Enanta Pharmaceuticals initiated a Phase 1 clinical study of EDP-938 in 4Q17. The company expects to start a Phase 2a challenge study in 2H18 to test the effect of EDP-938 on volunteers who will be infected with RSV during the study. 
RSV is the most common cause of bronchiolitis and pneumonia in children under one year of age in the US. According to Enanta Pharmaceuticals, it results in ~75,000–125,000 hospitalizations in the US every year.
Enanta also has a program to discover and develop new compounds for the treatment of hepatitis B virus (or HBV). The company has set a goal of identifying a development candidate in 2018. Enanta estimates that HBV affects ~250.0 million individuals worldwide.
In the final part of the series, we'll take a look at the financial performance of Enanta Pharmaceuticals.