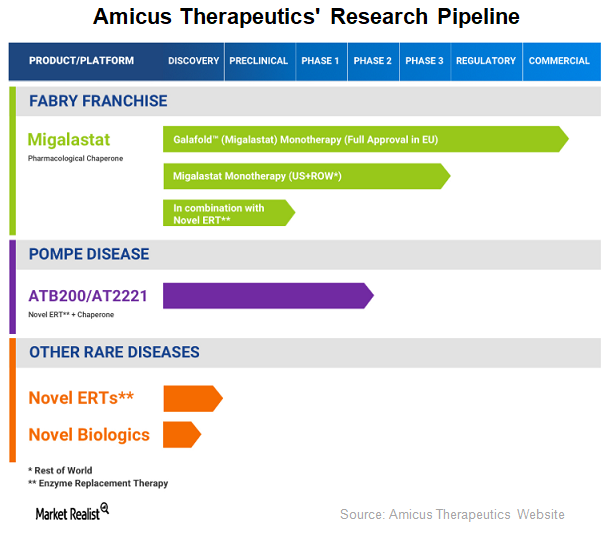 Exploring Amicus Therapeutics' Promising Research Pipeline
By Kenneth Smith

Apr. 30 2018, Updated 3:45 p.m. ET
Research pipeline
Amicus Therapeutics (FOLD) is currently developing a novel proprietary enzyme replacement therapy (or ERT) coformulated with migalastat HC1 for Fabry disease patients with nonamenable genetic mutations. The therapy is currently in late preclinical development.
Article continues below advertisement
ATB200/AT2221
The future value driver of the company's research pipeline is ATB200/AT2221, a novel, late-stage treatment for Pompe disease. The drug leverages Amicus's CHART (chaperone-advanced replacement therapy) platform technology for the development of ERT products for the treatment of Pompe disease, Fabry disease, and potentially other lysosomal storage disorders (or LSDs).
Amicus is also investigating preclinical and discovery programs in other rare diseases, including cyclin-dependent kinase-like 5 (or CDKL5) deficiency. Amicus believes that its platform technologies and product pipeline uniquely position it to advance and expand a robust pipeline of first- or best-in-class medicines for rare metabolic diseases.
Fabry franchise
Amicus Therapeutics' Fabry franchise strategy is to develop migalastat HC1 as a monotherapy for patients with amenable mutations and to advance next-generation therapies for all other patients. The current label of migalastat, or Galafold, includes 331 Fabry-causing mutations. This represents 35%–50% of all patients currently diagnosed with Fabry disease.
Amicus commercially launched Galafold in the European Union in 2Q16 and generated net sales of $36.9 million in 2017. The drug has also been approved in Israel, Australia, South Korea, Switzerland, and Japan. Additionally, Amicus submitted a New Drug Application (or NDA) to the FDA in 4Q17, and the application was accepted under priority review. Its Prescription Drug User Fee Act date has been set to August 13, 2018.
In the next part of the series, we'll look at the market opportunities for Galafold and its current and potential competitors.