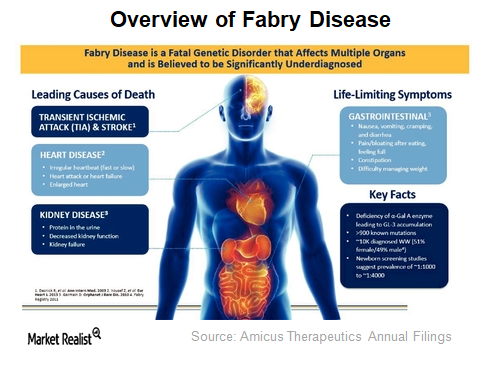 Analyzing the Market Potential for Amicus's Galafold
By Kenneth Smith

Apr. 30 2018, Updated 3:45 p.m. ET
Market opportunity
Fabry disease is a rare disorder, and according to Amicus Therapeutics (FOLD), the annual incidence of the disease in newborn males is estimated to be between 1:40,000 and 1:60,000. 
Excluding India and China, ~12,000 patients have been diagnosed with the disease worldwide.
According to the American Journal of Human Genetics, newborn screening studies in Italy, Taiwan, and Austria found the incidence of Fabry disease mutations to be between 1:2,400 and 1:4,000—more than ten times higher than previous studies.
Article continues below advertisement
Current competition
At present, Galafold has two competitors: agalsidase beta and agalsidase alfa. These are both enzyme replacement therapies approved for the treatment of Fabry disease. Agalsidase beta has been commercialized by Sanofi Aventis through Genzyme Corporation, and it's been approved globally with conditional approval in the United States.
Agalsidase alfa has been commercialized by Shire, and it's been approved in the European Union and other countries—but not in the United States. Notably, orphan drug exclusivity for both competitors has expired in the European Union and for agalsidase beta in the United States.
The net product sales of agalsidase beta were ~$816 million in 2017, while the net sales of agalsidase alfa were $472 million in 2017.
Other competitors
Other competitors to Amicus Therapeutics' products targeting Fabry disease and Pompe disease with candidates in different stages of development include Protalix Biotherapeutics, Audentes, Sangamo, Avrobio, Spark Therapeutics, and Valerion Therapeutics.
Protalix's PRX-102 is an ERT currently in Phases 2 and 3 targeted at Fabry disease. Audentes's AT982 is a gene therapy targeted at Pompe disease currently in the preclinical stage. Sangamo's ST-920 is a gene therapy currently in the preclinical stage targeted at Fabry disease.
In the next part of the series, we'll take a look at the financial performance of Amicus Therapeutics.