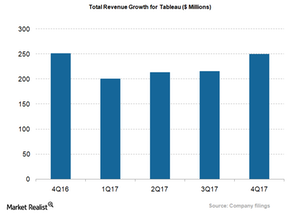 Analyzing Tableau Software's Key Business Drivers
By Aaron Hemsworth

Apr. 13 2018, Updated 9:00 a.m. ET
Key business drivers
Strong growth in data usage across different industries has supported Tableau Software's (DATA) analytics platform. The company has gained a strong presence outside the US and Canada, driven by the growing demand for data analytics.
Tableau Software's business also benefited from the signing of new deals. Its customer portfolio continues to expand, buoyed by the launch of products such as Hyper and Tableau 10.5. However, the transition toward its subscription-based model may have subdued the company's revenues in the last few quarters.
From the graph above, we can see Tableau Software's total revenue trend in the last five quarters. During this period, the data analytics company's revenues declined at a CAGR (compound annual growth rate) of 0.1%.
In 4Q17, Tableau Software's total revenues fell 1.0% YoY (year-over-year) to $249.0 million. At the end of fiscal 2017, its revenues came in at ~$877.0 million, up 6.1% YoY.
Article continues below advertisement
Analyst estimates and guidance
Of the 34 analysts covering Tableau Software stock, six gave "strong buy" ratings, and nine analysts provided "buy" recommendations. Sixteen analysts gave "hold" recommendations, and three offered "underperform" ratings. The average net revenue estimate provided by these analysts for 1Q18 is $218.0 million. For fiscal 2018, this estimate is ~$970.4 million.
Tableau Software projects its total revenues for 1Q18 to reach $212.0 million–$222.0 million. Its projected revenues for fiscal 2018 are $945.0 million–$985.0 million.