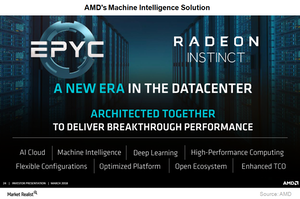 AMD's Growth Strategy for Enterprise Business
AMD's Enterprise business
In the previous part of this series, we saw that Advanced Micro Devices (AMD) would witness the benefits of EPYC server CPU (central processing unit) and Radeon Instinct GPU (graphics processing unit) in 2018. Intel's (INTC) Xeon server CPUs and NVIDIA's (NVDA) Tesla GPU have technology advantages over AMD's EPYC and Radeon Instinct. However, AMD has the advantage of both CPU and GPU technology—and that is what it plans to leverage.
As seen from the chart below, AMD would integrate EPYC and Radeon Instinct to develop machine intelligence solutions and compete with Intel and NVIDIA in this space.
Article continues below advertisement
EPYC
In 4Q17, AMD's EPYC server CPUs secured design wins from education, financial services, and hosting companies. It also started deployment of EPYC at data centers of cloud companies like Microsoft (MSFT) Azure and Baidu (BIDU).
Recently, it announced another order for EPYC from Yahoo Japan. Server OEMs like Hewlett Packard Enterprise (HPE) and Dell have started volume shipments of the EPYC-based servers.
Fiscal 2018 could be a defining year for AMD's server business. It looks to gain mid-single-digit market share in the server space in 2018 and double-digit market share in the long term.
Smarter Analyst reported that Stifel Nicolaus analyst Kevin Cassidy expects EPYC sales to ramp up in 2H18 and increase AMD's server market share from an estimated 1.0% in 2017 to around 4.0% in 2018. He estimates that an increase in EPYC sales would boost AMD's gross margin from 34.2% in 2017 to above 50.0% in 2018.
Radeon Instinct
Like NVIDIA, AMD is expanding the application of its discrete GPUs beyond PCs into data centers with its Radeon Instinct MI25 server accelerator. It would take time for sales of these GPUs to make a meaningful difference in AMD's revenues, as it needs robust machine learning software to make adoption of GPUs easier. NVIDIA's GPUs are a preferred solution for AI (artificial intelligence) because its CUDA software makes adoption of GPUs easier.
Allied Market Research estimates global GPU revenues to grow at a compound annual rate (or CAGR) of 35.6% to $157.1 billion by 2022 as GPU applications expand beyond gaming into augmented and virtual reality and AI.
Next, we'll look at AMD's semi-custom business.
Check out all the data we have added to our quote pages. Now you can get a valuation snapshot, earnings and revenue estimates, and historical data as well as dividend info. Take a look!