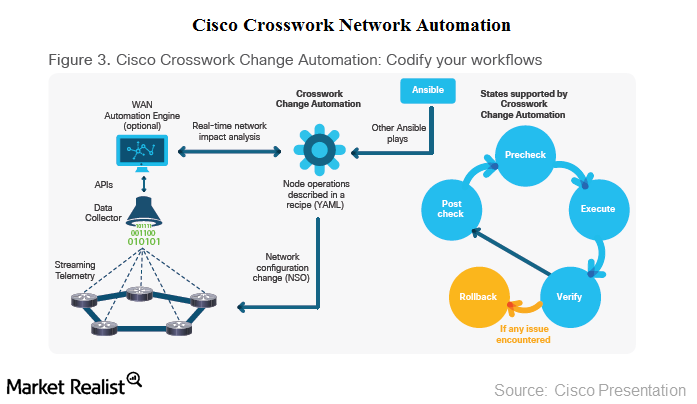 A Look at Cisco's Crosswork Network Automation Framework
Automation is one of the megatrends identified by Cisco Systems
Cisco Systems (CSCO) has identified automation as one of the megatrends for service providers. According to Cisco Systems, the communication service providers (or CSPs) are at an inflection point, as virtualization and digitization disrupt delivery of services. Significant growth in traffic has made network operations more complex.
As CSPs look to reinvent themselves, they aim to deliver services in a more efficient and cost-effective manner. Automation is one of the primary pillars of this digital transformation among CSPs. Automation helps CSPs simplify operations and gain speed, efficiency, and agility.
Article continues below advertisement
Service providers need to have an architecture that can transform their operations into a fast, agile, and cost-effective service delivery environment. Cisco Systems expects SDN (software-defined networking), NFV (network function virtualization), analytics, and automation to lead this transformation.
Crosswork Network Automation
The Cisco Systems Crosswork Network Automation is a solution that looks to address these challenges. According to Cisco Systems, it "provides a framework for transforming the current mode of operations and delivers the efficiencies and scale achieved by web operators to service providers."
Cisco Systems notes that this solution is a comprehensive closed-loop, mass scale automation solution that embraces multivendor networks. Cisco Systems' peers Nokia (NOK) and Ericsson (ERIC) are also eyeing the automation and data analytics space.