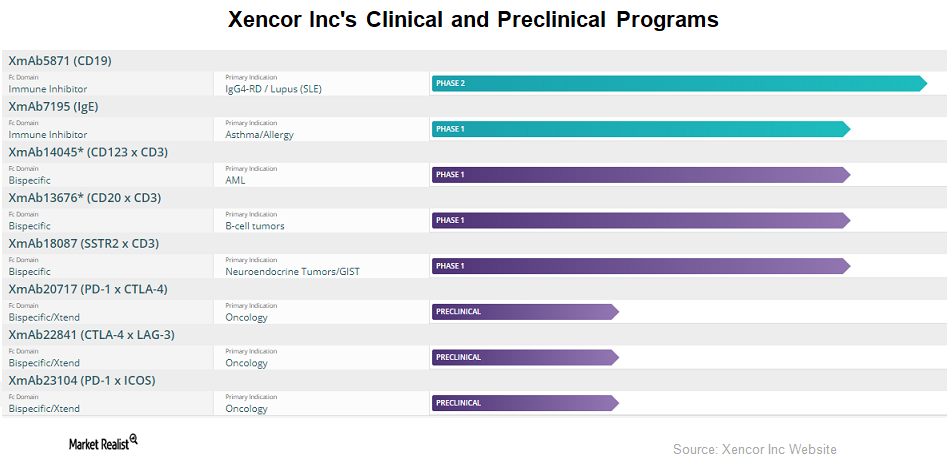 Xencor's Promising Research Pipeline
By Kenneth Smith

Mar. 26 2018, Updated 12:14 p.m. ET
Product pipeline
Xencor (XNCR) has developed two promising product candidates. Its XmAb5871 is in the Phase 2 trial for the treatment of autoimmune disease. The drug is expected to enter the Phase 3 trial in 2018.
XmAb7195 is being developed for the treatment of asthma and allergic diseases, and it has recently completed its Phase 1 trial.
Xencor is also developing a pipeline of candidates using its Fc bispecific technology. The company currently has three programs in Phase 1 and expects to file Investigational New Drug Applications (or IND) for three additional programs in 2018. These include XmAb14045 for the treatment of acute myeloid leukemia, XmAb13676 for the treatment of B-cell malignancies, and XmAb18087 for the treatment of neuroendocrine tumors and gastrointestinal stromal tumors.
Article continues below advertisement
Collaboration with Novartis
Xencor entered into a collaboration and licensing agreement with Novartis (NVS) in June 2016 for the development and commercialization of bispecific and other Fc-engineered antibody drug candidates. Under the agreement, Xencor granted Novartis the exclusive rights to develop and commercialize XmAb14045 and XmAb13676.
Xencor is eligible to receive up to $325 million in milestone payments for each candidate, along with royalties on sales outside the United States.
Additionally, Xencor has out-licensed two compounds, MOR208 and AMG424, to Morphosys AG and Amgen (AMGN), respectively. These candidates present an additional royalty and milestone payment stream for Xencor.
At present, MOR208 is in the Phase 3 trial for patients with non-Hodgkin's lymphoma and the Phase 2 trial for patients with chronic lymphocytic leukemia. The drug has received a breakthrough designation for targeting diffuse large B-cell lymphoma in combination with lenalidomide from the FDA.
AMG424 is being developed for the treatment of multiple myeloma. In November 2017, Amgen filed an IND for AMG424.
In the next article, we'll take a look at Xencor's technology partner programs.