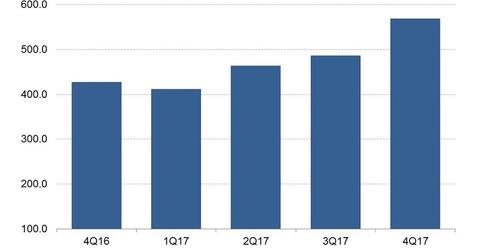 Why Baidu's Research and Development Costs Are Rising
By Neha Gupta

Mar. 8 2018, Updated 9:02 a.m. ET
R&D costs jumped 25% in 4Q17
Baidu's (BIDU) R&D (research and development) costs increased throughout 2017 as the company continued to give innovation the top priority in its budget allocation.
Baidu's R&D costs were $569 million in 4Q17, representing a rise of 25% YoY (year-over-year). The company's R&D expenses rose 24% YoY in 3Q17 and 27.7% YoY in 2Q17. Its R&D costs were up 34.9% YoY in 1Q17 following a rise of 19.5% YoY in 4Q16.
Article continues below advertisement
AI research driving up R&D spending at Baidu
More hiring in the research department drove the increase in Baidu's R&D expenses in the latest quarter. Generally, Baidu's R&D costs have risen in recent years as the company has doubled down on AI-related (artificial intelligence) research work. Baidu spends roughly 15% of its annual revenue on R&D, with the bulk of its spending going toward AI-related initiatives such as autonomous driving.
In 4Q17, Baidu opened its second R&D facility in Silicon Valley and set up a new engineering center in Seattle.
Alphabet also recorded a strong rise in R&D costs
At Alibaba (BABA), one of Baidu's Chinese competitors in areas such as digital advertising and cloud computing, R&D expenses rose 43.2% YoY in the period corresponding to Baidu's 4Q17.
Amazon (AMZN) and Google's parent, Alphabet (GOOGL), two other notable AI innovators, recorded 40% and 19.4% YoY rises in their 4Q17 R&D expenses, respectively. Microsoft's (MSFT) R&D costs jumped 12.9% YoY in 4Q17.