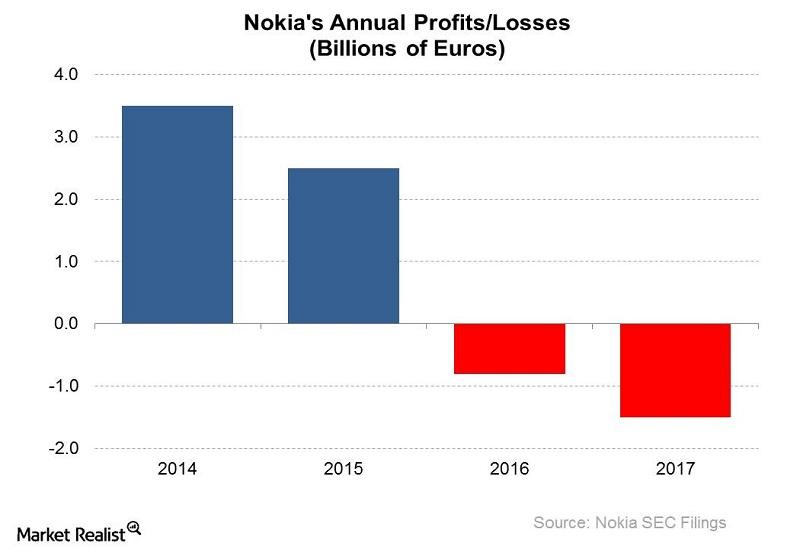 What You Need to Know about Nokia Backer Solidium
Solidium backs over a dozen major Finnish companies
Solidium, the Finnish state-run investment fund that built a 3.3% stake in Nokia (NOK) at the start of 2018, has minority holdings in over a dozen major Finnish companies. Including Nokia, Solidium owns minority stakes in 13 listed Finnish companies, and the combined value of those investments is estimated to be over $11 billion.
Nokia is a bit of an outlier in Solidium's holding pattern. The fund has built only a 3.3% stake in Nokia, yet it holds more than 10% in most of the companies in its portfolio, according to Reuters. Solidium isn't saying whether it plans to increase its stake in Nokia, leading some to say that the fund's strategy is not clear.
Article continues below advertisement
Article continues below advertisement
Solidium not seeking a seat on Nokia's board—for now
Nokia's annual shareholder meeting is scheduled for May 30, 2018. Solidium isn't expected to seek a seat on Nokia's board of directors at the meeting, but Reuters reported in February that Solidium plans to have board members in each of the companies in which it has a stake.
"[Being on the board] makes communication easier with the companies. We don't like to be informed by newspapers on, for example, that the CEO of our company is leaving," said Solidium's CEO, Antti Makinen.
What plan does Solidium have for Nokia?
Solidium could seek a seat on Nokia's board in the future. Solidium's specific plans for Nokia are currently unclear. Nokia suffered a loss of 1.5 billion euros in 2017.
Nokia, once a leading maker of mobile phones, sold its phone-making business to Microsoft (MSFT) in 2014 at a time when it was struggling to keep up with Apple, Samsung (SSNLF), and Sony (SNE) in the handset business. Nokia stayed out of the handset business for a few years and only made a comeback in 2016 through a partnership with HMD Global. Nokia licensed HMD Global to produce phones under its brand in an arrangement comparable to the deal between BlackBerry (BB) and Chinese hardware manufacturer TCL.