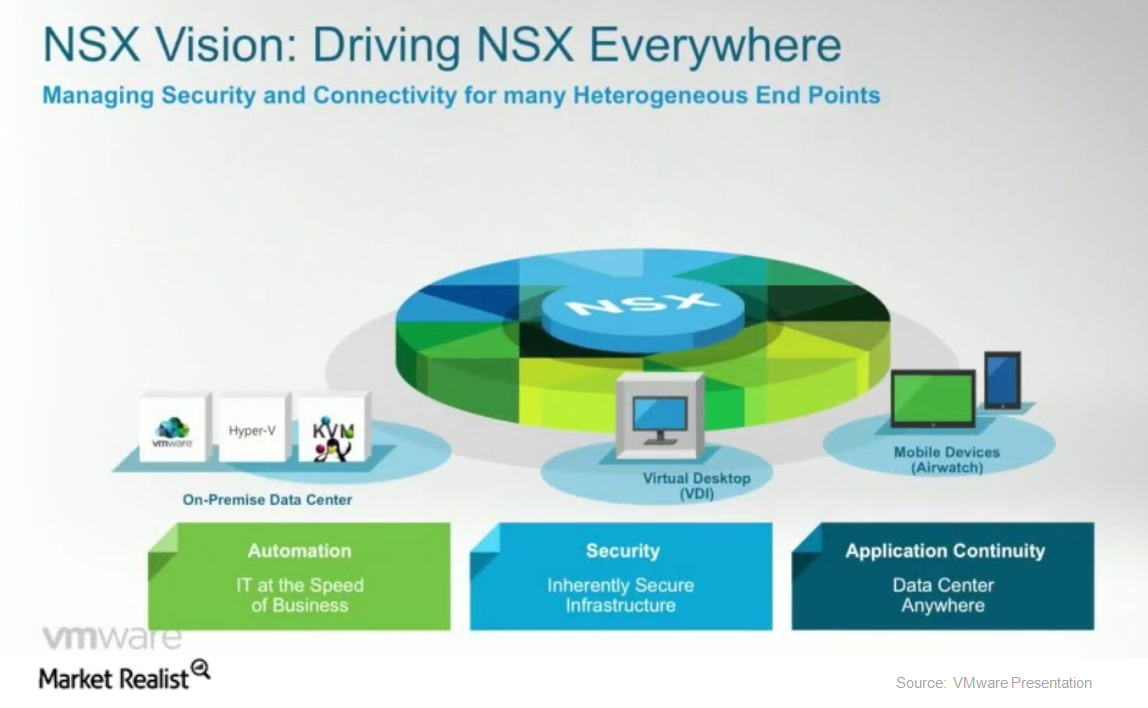 Understanding VMware's NSX Everywhere Strategy
VMware's NSX Everywhere strategy
Previously, we discussed VMware's (VMW) NSX and how it may add to VMware's prospects. VMware consistently upgrades NSX to improve features and resolve issues.
VMware's NSX is a networking platform that can manage and control any virtualized networking environment, irrespective of endpoints. NSX treats each app in the same way, regardless of their complexity, allowing NSX to deploy, configure, and secure apps between clouds. Recently, VMware said, "Our NSX Everywhere strategy provides seamless connectivity from data center to cloud to edge, while enabling developers with the tools that help them innovate and providing administrators with visibility, automated controls and security."
Article continues below advertisement
NSX provides a solution to networking space challenges
NSX deals with networking challenges regarding public clouds, containers, and infrastructure management. Please read VMware's Focus on Container Technology and What It Indicates to know more.
NSX's microsegmentation provides the security solution containers require. Microsegmentation improves the flexibility of network security with software-defined policies rather than non-mechanized configuration. As a result, companies get access to a simpler architecture in virtualized and SDDC (software-defined data centers) with different workloads and improved network performance.
In August 2017, along with Pivotal Software, VMware teamed up with Google (GOOG) to promote the Kubernetes application to established companies with their own data centers. Through this partnership, VMware's customers could have easy access to Google's cloud, which includes AI (artificial intelligence) services. Google, on the other hand, would have access to VMware's vast customer database.
Though public cloud is widely adopted, it faces the challenge of modern apps' increasing complexity. In his keynote at the 2016 RSA Conference, VMware CEO Pat Gelsinger summarized it aptly, stating that "the application is a network."