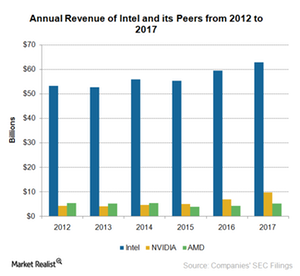 Intel in the Semiconductor Industry: Key Revenue Drivers
A strong year for the semiconductor industry
Calendar 2017 was a very strong year for the entire semiconductor industry. Memory companies like Micron Technology (MU), SK Hynix, and Samsung (SSNLF) made it to the top five semiconductor companies (excluding foundries). Samsung even overtook Intel (INTC) to become the largest semiconductor company by revenue.
Intel also reported record revenue and earnings. Its rival Advanced Micro Devices (AMD) turned from losses to profits, and NVIDIA (NVDA) witnessed strong double-digit revenue growth, which put it on the list of top ten semiconductor companies of 2017. All this came as memory market witnessed supply shortage, AI (artificial intelligence) adoption increased, the cryptocurrency boom drove demand for graphics cards, and the increasing popularity of eSports boosted the gaming market.
Article continues below advertisement
Article continues below advertisement
Intel's best year for earnings
In fiscal 2017, Intel's revenue rose 9% YoY (year-over-year) to $62.8 billion, driven by 16% YoY growth in its data-centric business, which includes data center, IoT (Internet of things), programmable solutions, and memory. Its PC (personal computer) business also reported 3% YoY growth due to rising ASP (average selling price).
The above figures exclude the revenues from Intel's security business, McAfee, which it spun off in April 2017 by selling 51% stake to TPG and retaining the remaining 49% stake. The company transferred the earnings from this 49% stake to its All Others segment.
The contribution of Intel's data-centric revenues rose to 45.7% in 2017, and this higher contribution was reflected in its full-year revenue growth rate of 9%. Such strong earnings exceeded Intel's own guidance of low-single-digit revenue growth for 2017.
By comparison, NVIDIA reported revenues that were 2.3% above its own guidance of $9.4 billion for calendar 2017. AMD also reported double-digit revenue growth driven by the PC segment.
Revenue drivers
Intel's data-centric product mix was at its highest in fiscal 4Q17, with the business contributing 47.5% to the company's total quarterly revenues. This was because the company witnessed better-than-expected demand for server processors from enterprise customers.
However, this trend is highly cyclical and will not likely be sustainable in 2018. Intel's data center revenues rose 20% YoY (year-over-year) in 4Q17.
Developing future technologies
Intel is using profits and technology from the data center business to develop future technologies of 5G and AI (artificial intelligence). The company also witnessed strong demand for Altera FPGAs (field-programmable gate arrays), which pushed programmable solutions revenues up 35% YoY in 4Q17. The company also witnessed 14% and 21% YoY growth in its memory and IoT businesses, respectively.
To be sure, Intel's data-centric business is pushing it to become the company of the future. The business helps customers transfer, store, and analyze data to get some actionable insights.
In the next part, we'll discuss how the transition to data-centric business would impact Intel's fiscal 2018 revenue.