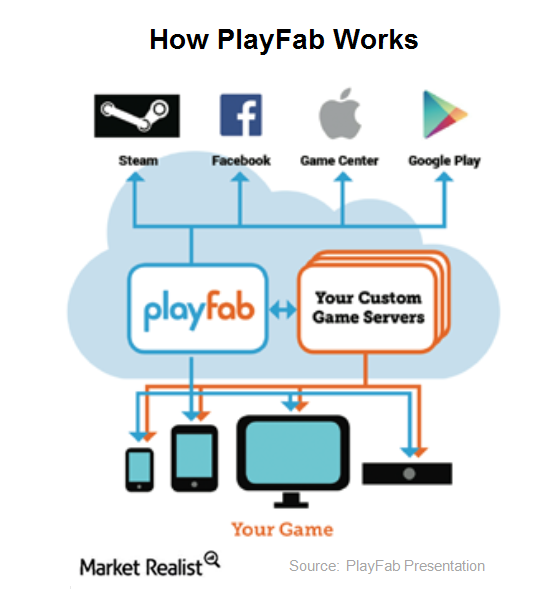 How PlayFab Could Boost Microsoft's Azure Capabilities in the Cloud?
PlayFab's acquisition to boost Azure's gaming capabilities
In the preceding parts of this the series, we discussed how Microsoft's (MSFT) Intelligent Cloud's performance in fiscal 2Q18 benefited from Azure, which has continued to be a key highlight. In late January 2018, Microsoft announced the acquisition of PlayFab.
PlayFab offers a platform that game developers can use to host and operate online games. Its backend services offer cost-efficient development solutions that enable them to engage, retain or hold, and monetize users, thus reducing barriers to launches.
Financial details of the deal were not disclosed. Post its acquisition, PlayFab will become a part of Azure's gaming group.
In a blog post, Kareem Choudhry, Microsoft's corporate VP of gaming shared how PlayFab would boost Azure and said, "Together, Azure and PlayFab will further unlock the power of the intelligent cloud for the gaming industry, enabling game developers and delighting gamers around the world."
Article continues below advertisement
Article continues below advertisement
PlayFab's platform and niche in the gaming space
Founded in 2014, Playfab raised $13 million in funding till date, according to Crunchbase. PlayFab's integration with Azure will likely give Microsoft access to a vast network of former's game developers and gaming-as-a-service platforms, which are likely to provide Microsoft a vital step forward in gaming space.
The gaming platform has some prominent titles, such as Angry Birds: Seasons, Idle Miner Tycoon, and Roller-Coaster Tycoon Touch.
After serving more than 700 million gamers, Microsoft is currently involved with more than 1,200 games with companies including Walt Disney (DIS), Rovio, NBCUniversal, Capcom, and Atari.