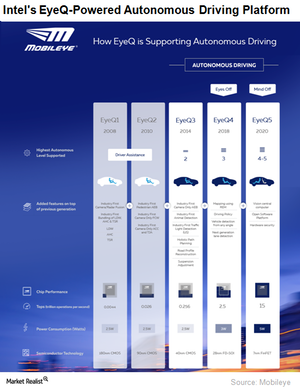 How Intel Is Using Mobileye for Autonomous Driving
Intel's automotive business
Intel's (INTC) move toward becoming a data-centric company focuses on network connectivity, deep learning and AI (artificial intelligence) solutions for data centers, and edge computing devices. In edge computing, one of the largest verticals is automotive. The technology industry and automotive supply chain have been working on bringing self-driving cars to reality.
Technology-wise, NVIDIA (NVDA) is leading in autonomous driving, though Intel has caught up fast with the acquisition of ADAS (advanced driver assistance system) supplier Mobileye. Qualcomm (QCOM) is slowly catching up in the automotive space, acquiring NXP Semiconductors (NXPI).
Fully autonomous driving is divided into five levels, with the fifth leading to a driverless car. Intel has secured design wins for Level 2 and Level 3 autonomous driving from 11 automakers, which together account for over 50% of global vehicle production.
Article continues below advertisement
Article continues below advertisement
Intel's roadmap to autonomous driving
Intel aims to integrate its Atom processors and Mobileye's EyeQ5 technology in its scalable and efficient autonomous driving platform. EyeQ5 would deliver 23 TOPS (tera operations per second) of deep learning performance while consuming ten watts of power. The company aims to use its EyeQ5-powered platform through to Level 5 autonomous driving.
At the 2018 CES (Consumer Electronics Show), Intel stated that it would roll out its Level 2 EyeQ-powered processors in 2 million cars in 2018. These cars would collect crowd-sourced data that Intel could use for REM (road experience management) mapping. Intel plans to use this mapping to deliver Level 3 autonomous driving solutions in 2019.
NVIDIA plans to roll out its DRIVE PX 2 AI car platform in some cars in 2H18, marking the first time NVIDIA would earn revenue from its autonomous driving solutions. It is important to note that Intel has integrated Mobileye into its All Other segment, which is dedicated to future technologies. As higher adoption of AI and 5G (data-intensive technologies) could drive demand for memory, Intel has re-entered the memory market after 20 years. In the next part, we'll look at the chip giant's memory business.