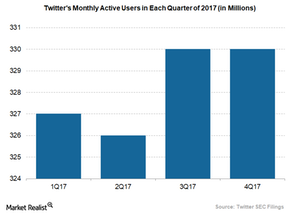 How Fake News and Crypto Scams Are Hurting Twitter's Audience
No change in monthly users
Twitter (TWTR) ended 4Q17 with MAU (monthly active users) of 330.0 million, which was equal to the monthly users the company had at the end of 3Q17. Although its MAU was 4.0% higher than in 4Q16, there were no additional users in 4Q17 from 3Q17.
Article continues below advertisement
Article continues below advertisement
Downtrend due to the suspension of malicious accounts
In 4Q17, Twitter's monthly audience was partially hurt due to the changes made by Apple to its Safari browser's third-party app integration. Notably, Twitter lost nearly 2.0 million MAUs in 4Q17 due to these changes.
Another factor that impacted the monthly audience was the company's crackdown on doubtful accounts on its platform. User growth is hampered on the social networking platforms due to rising cases of abusive content, cyber-crime, and trolling. Notably, Twitter has been making efforts to suspend fake accounts, despite having millions of followers, for violating its anti-spam rules and spreading fake news.
Due to the rising number of cryptocurrency scams on the Twitter platform, the company is taking measures to shut down manipulative accounts, according to the Verge. Although Facebook (FB) also banned these types of accounts in January, cryptocurrency ads have still not entirely disappeared from Facebook's platform.
Twitter's CEO, Jack Dorsey, recently announced that the company will verify users on its platform through its blue checkmark, which was introduced in 2009 to identify celebrities, athletes, politicians, and other public figures to curb impersonators.
Facebook and Alphabet's (GOOGL) Google are also taking measures to make their platforms safe, secure, and reliable. Google suffered a setback in 2017 when big brands like Johnson & Johnson stopped advertising on YouTube after they discovered that their advertisements were appearing after inappropriate content.