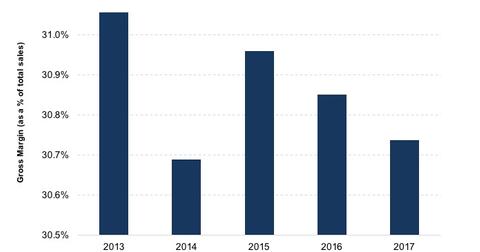 Dollar General's Fiscal 2017 Profitability
By Sonya Bells

Updated
Fiscal 2017 margins
Dollar General's (DG) fiscal 2017 gross margin fell eight basis points to 30.8% of sales. The company saw an increase in the proportion of lower-margin products and consumables in its total sales, higher markdowns, and increased transportation costs.
While the gross margin was down during the first two quarters, Q3 and Q4 together recorded an improvement of 50 basis points. Nevertheless, Q4 marked the third consecutive year of gross margin declines for the company.
In comparison, competitor Dollar Tree (DLTR) reported a 70 basis point improvement in its gross profit margin, which stood at 31.6% of sales. Behind this improvement were fewer promotional activities and declining occupancy costs during the year.
Article continues below advertisement
DG's expenses and recent tax benefits
SG&A (selling, general and administrative) expenses soared 75 basis points during the year to 22.2% of sales, as the company incurred higher labor and occupancy costs.
Management said it incurred an additional $24 million for incremental store closures and $18 million as hurricane- and other disaster-related expenses. The company was, however, able to cut advertising costs during the year.
The Tax Cuts and Jobs Act lowered the company's effective income tax rate to 19.3% in fiscal 2017, compared to 36.3% in fiscal 2016. The company recorded a benefit of $311 million, or $1.15 per diluted share, as a result of the new tax laws.
The company plans to use the tax savings to buy back shares rather than raising employee wages, Dollar Tree announced.
Net earnings
DG's fiscal 2017 net income stood at $1.54 billion or $5.63 in adjusted earnings per share, reflecting an increase of 27% YoY. Excluding the tax benefits and adjusting for other one-time items, the company's net income stood at $1.25 billion or $4.57 per share, recording an increase of 2% over the last year.