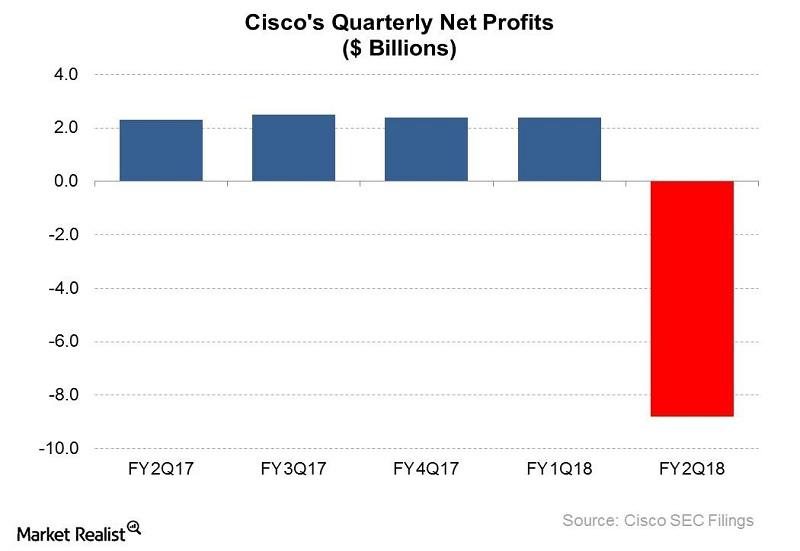 Cisco Systems Adjusts Its Holdings in VMware
Cisco adjusts holdings in VMware
In addition to its core business of selling network equipment and related software, Cisco Systems (CSCO) also invests in other companies, such as by taking up an equity stake in them.
Cisco Systems reshuffled its equity investment portfolio during 4Q17, resulting in a reduction of its stake in at least one stock and the opening of a new position in at least one other stock.
VMware (VMW) is one notable stock in which Cisco Systems reduced its holdings. The company sold nearly a third of its stake in VMware, according to regulatory filings. Cisco Systems still owns more than 2.5 million VMware shares, representing nearly 42.8% of its total portfolio.
Article continues below advertisement
Cisco initiates stake in Aquantia
During 4Q17, Cisco Systems (CSCO) opened a new position in semiconductor company Aquantia (AQ). CSCO bought 672,776 shares in Aquantia, representing 1.0% of its portfolio.
Aquantia manufactures high-speed integrated circuits, and it counts Cisco Systems among its largest customers. Aquantia went public in November 2017. While filing for its IPO (initial public offering), Aquantia disclosed that Cisco Systems and Intel (INTC) are two of its largest customers, accounting for more than 90% of its revenues in 2016.
Cisco also owns stakes in companies such as Apptio (APTI) and MuleSoft (MULE). Apptio is a provider of cloud-based business solutions, while MuleSoft provides enterprise application connectivity solutions.
$1.5 billion in cash from investing activities
Cisco Systems (CSCO) slashed its stake in VMware at a time when Dell is considering a reverse merger with VMware, according to a recent CNBC report. Dell, whose tracking stock is Dell Technologies (DVMT), completed the acquisition of VMware parent EMC in September 2016.
Cisco Systems reported $1.5 billion in cash from investing activities in the half-year period ended January 2018. The company suffered a net loss of $8.8 billion in its fiscal 2Q18 (quarter ended January 2018), with the loss coming as a result of the overhaul of the US tax code in December.