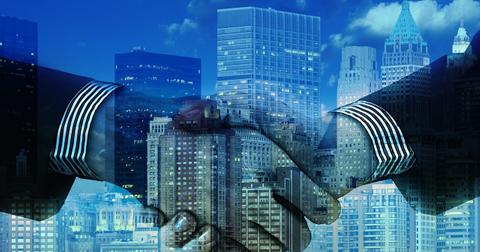 Boston Scientific Announced the Acquisition of NxThera
By Sarah Collins

Mar. 23 2018, Published 10:39 a.m. ET
Boston Scientific's NxThera acquisition announcement
On March 21, 2018, Boston Scientific (BSX) announced the acquisition of NxThera for up to $406.0 million. This acquisition includes an upfront payment of $306.0 million and an additional milestone-based payment of up to $100.0 million, which is payable over the next four years.
However, Boston Scientific has an existing minority investment in NxThera. This investment brings down the company's net upfront cash payment for the transaction to $240.0 million and the milestone-based payment of up to $85.0 million. 
Boston Scientific (BSX) has a leading portfolio of urology and pelvic health products. The acquisition of NxThera further strengthens its market position.
Article continues below advertisement
This acquisition is expected to be completed in the second quarter of 2018. The company expects the transaction to be dilutive on a GAAP[1. generally accepted accounting principals] basis. However, the transaction is immaterial to the company's adjusted EPS (earnings per share) through 2020 and is accretive thereafter.
Company overview
NxThera is a Minnesota-based privately held company that is a developer of the Rezūm system. The Rezūm system is commercially available in the United States and Europe. The Rezūm system is a minimally invasive transurethral RF (radiofrequency) therapy for the treatment of BPH (benign prostatic hyperplasia).
BPH is the condition of prostate enlargement and entails symptoms such as frequent urination and pain. It impacts around 110.0 million people around the globe, according to Boston Scientific. Generally, physicians prescribe alpha-blocker medications for this condition, which are manufactured by Pfizer's (PFE) Cardura, Sanofi's (SNY) Uroxatral, and Teva's (TEVA) Rapaflo.
According to Dave Pierce, senior vice president and president of Boston Scientific's Urology and Pelvic Health segment, "The Rezūm system is an innovative therapy for men with symptomatic BPH that helps patients with a minimally invasive approach while reducing the cost and unwanted side effects that comes with taking maintenance medications.
"When compared with other minimally invasive BPH therapies, patients treated with the Rezūm system spend less time in the doctor's office and have longer lasting improvement in their symptoms."
Upon the completion of the acquisition, the two companies will spin out a new entity that focuses on Rezūm technology for prostate and kidney cancer.