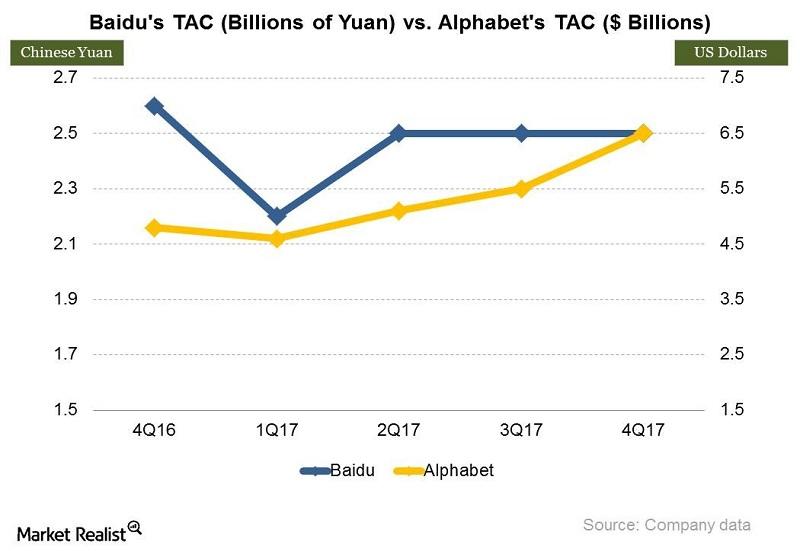 Baidu's and Google's Scorecards Side-by-Side
By Neha Gupta

Dec. 4 2020, Updated 10:53 a.m. ET
Baidu outpaced Google in top line growth
Baidu (BIDU) and Google have a lot of similarities. It's no wonder Baidu has earned itself the nickname of the "Google of China." Both Baidu and Google are Internet search engine providers, and they're the dominant providers in their respective domestic regions. Beyond the Internet search business, which nets them advertising revenue, Baidu and Google's parent, Alphabet (GOOGL), have interests in cloud computing and autonomous driving.
Baidu's and Alphabet's 4Q17 financial reports compare and contrast in a number of ways. Both companies grew their overall revenues, with Baidu's revenue rising 29% YoY (year-over-year) and Alphabet's rising 24% YoY.
Article continues below advertisement
Advertising grew faster at Baidu than at Google
Baidu grew its advertising revenue faster than Alphabet did in 4Q17. Baidu's advertising revenue rose 25.9% YoY compared to Alphabet's 21.4% YoY increase in advertising revenue. Facebook (FB) and Snap (SNAP) grew their advertising revenues by 48% and 74% YoY, respectively, in 4Q17. Snap is backed by Tencent (TCEHY), Baidu's rival in China's digital advertising market.
Although advertising contributed most of their overall revenues, Baidu relied more on its advertising budget than Alphabet did in 4Q17. Advertising accounted for 86.4% of overall revenue at Baidu compared to 84.2% at Alphabet. As the digital advertising industry becomes more and more competitive, companies such as Alphabet, Baidu, and even Facebook have been working to diversify their revenue streams beyond advertising sales.
TAC soared at Alphabet, dipped at Baidu
Baidu and Alphabet managed their key-cost items differently in 4Q17. While TAC (traffic acquisition costs) fell 4.5% YoY at Baidu, Alphabet's TAC rose 35.4% YoY. According to Alphabet, it's more expensive for it to acquire traffic on mobile devices than on desktops, so its mobile expansion is driving expenses up as well.