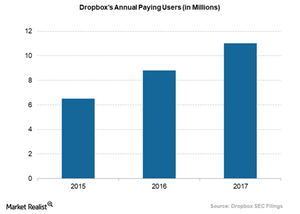 A Look at the Dropbox's User Base
Dropbox's user base
Dropbox (DBX) has grown its registered user base by 25% year-over-year to 500 million in 2017 across 180 countries. Of its total user base, only 2.2%, or 11 million, are paying customers. Of the 11 million paying users, approximately 30% subscribe to the Dropbox Business team plan, and an additional 50% use Dropbox on an individual program.
The company's paying users have increased from 6.5 million in 2015 to 8.8 million in 2016, finally reaching 11 million in 2017. According to Dropbox, 60% of its registered users have one or more features that make them more likely to convert to paying customers.
Article continues below advertisement
Revenues coming from individual users
The company generates more than 90% of its revenues from individual users who sign up for Dropbox and choose to purchase a subscription through the app (application) or website. The company also earns revenues from Dropbox Business teams as well as large organizations. In 2017, more than 80% of Dropbox's revenues came from existing individual users and Dropbox Business teams.
Average revenue per user (or ARPU) stands at $111.91, which was higher than 2016 but lower than 2015 levels. The increase in ARPU in 2017 was led by a favorable sales mix toward higher-priced subscription plans.
Dropbox competes with Box (BOX), its primary cloud storage rival, as well as consumer cloud offerings from Apple, Amazon (AMZN), Microsoft (MSFT), and Google (GOOGL).