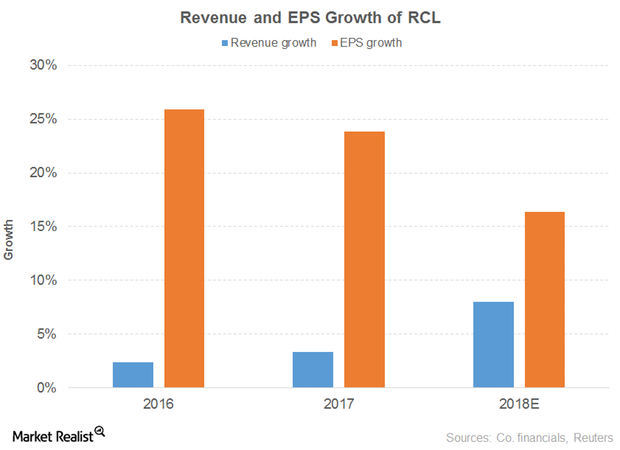 What Will Drive RCL's Dividends?
By Amanda Lawrence

Feb. 12 2018, Published 11:46 a.m. ET
What drove the revenue growth?
Royal Caribbean Cruises (RCL) has five-year dividend growth of 39%. The company hasn't been able to generate consistent free cash flow to pay off its dividends. The company's revenue has grown consistently in the last five years. It grew 2% and 3% in 2016 and 2017, respectively.
Passengers carried, passenger cruise days, available passenger cruise days (or APCD), and occupancy drove the growth in 2016. In 2017, passenger cruise days and APCD fell, but the falls were offset by the other metrics.
Article continues below advertisement
What drove the EPS growth?
Cost of revenue fell 2% in both 2016 and 2017, respectively, due to lower fuel costs, which led to a 9% and 12% growth in gross profit for 2016 and 2017, respectively. Operating expenses fell 14% in 2016 before rising 7% in 2017. The decrease in 2016 was due to asset impairment. As a result, operating income grew 69% and 18% in 2016 and 2017, respectively. Other expenses decreased 7% and 39% in 2016 and 2017, respectively. Net income rose 23% and 24% for 2016 and 2017, respectively. EPS expanded 26% and 24% in 2016 and 2017, respectively. Share buybacks enhanced the EPS numbers.
How did dividend and prices perform?
A PE of 16.3x and a dividend yield of 2% compares to a sector average PE and a dividend yield of 18.3x and 2.2%, respectively. The dividend yield fell in 2017 due to price gains offsetting the impact of dividend growth. The dividend yield increased slightly in 2018 due to relatively lower price gains.
What will drive the revenue and EPS growth?
North American, European, and Asia-Pacific itineraries continue to drive strong demand for the company's main products. Robust onboard outlay has further supported this trend. New ships for Europe and Fort Lauderdale are expected to drive the company's revenues. The company will also be launching luxurious ships for exotic locations like the Galapagos Islands, making fleet upgrades, and adding more capacity and destinations. Revenue has been projected to grow by 8% to $9.5 billion in 2018. EPS is estimated to grow 16% to $8.8.
The iShares Core Dividend Growth ETF (DGRO) has a PE of 20.6x and a dividend yield of 2%.