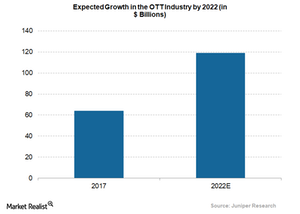 How Will Cisco's Infinite Video Platform Target the OTT Industry?
Cisco to launch cloud-powered video services
Cisco (CSCO) recently launched its video streaming vehicle, Infinite Video Platform, which enables users to optimize highly secured video regarding both resolution and speed. The Infinite Video Platform is expected to give customers an enhanced experience.
Cisco's video services, either cloud DVR or OTT (over-the-top) video—would focus on customers streaming their video recordings from multiple clouds to any device via an Internet connection. The service providers can use virtual cloud stacks to deliver enhanced video experiences to all consumer devices from one platform.
Cisco has partnered with more than 20 global service providers to offer cloud DVR services. Cisco Infinite Video Platform and cloud DVR services currently support more than 20 million subscribers worldwide.
Article continues below advertisement
Article continues below advertisement
Companies looking to tap OTT streaming video market
As the popularity of OTT streaming video rises, service providers are increasingly focusing on advanced services such as cloud DVR. Customers can stream their videos from the cloud to any device with the help of an app.
The declining trend of traditional TV is leading to rapid growth in the video streaming or OTT market in the US. As a result, pay-TV providers Verizon, Comcast (CMCSA), and Charter Communications (CHTR) are losing customers to the online video streaming industry. The online video streaming industry is dominated by Netflix (NFLX) and Amazon (AMZN).
According to Juniper Research, the value of the digital TV and video industry is expected to grow to $119 billion by 2022, up from an estimated $64 billion in 2017.