What Helped Microsoft Capture the Largest Market Share?
Microsoft (MSFT) is behind only Amazon (AMZN) in the overall cloud space.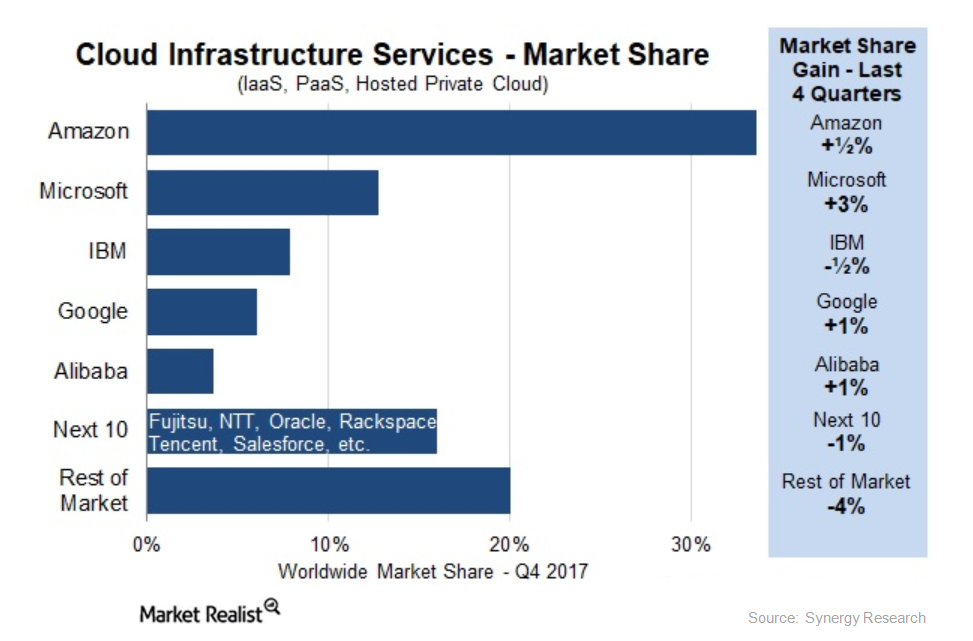 Top four players continued to expand their market share
Earlier in the series, we discussed which segments of the cloud grew the most and the players that held the lead in various segments of the cloud. Microsoft (MSFT) is behind only Amazon (AMZN) in the overall cloud space. It continues to face similar competition in the IaaS space where Amazon and Microsoft are dominant players, as the below presentation shows.
The below presentation by Synergy Research also shows that in addition to IBM (IBM), the other top players, Amazon, Microsoft, Google (GOOG), and Alibaba (BABA) all boosted their market share. However, the next ten players, as well as the rest of the market continued to lose market share. This trend indicates that the top four players managed to increase their market share at the expense of smaller players in the cloud.
Article continues below advertisement
Article continues below advertisement
Microsoft Azure is rapidly being adopted as compared to Amazon's AWS
Among the top four players, Microsoft expanded its market share by the most percentage points, or 3%, as the above presentation shows. According to the RightScale "2018 State of the Cloud" Report, 49% of beginning users adopted Azure compared to 47% for AWS, indicating that Microsoft Azure is beating Amazon's AWS in terms of adoption among beginner cloud users. It's Azure's increased adoption that is helping Microsoft expand its reach in the cloud space.
Though Amazon maintained its dominant position with revenues that exceeded the next four closest players combined, it posted the smallest expansion of 0.5% in market share. Google and Alibaba both recorded 1% growth in their market share.
4Q17 also marked the first time that Alibaba joined the league of top five players in the cloud space.