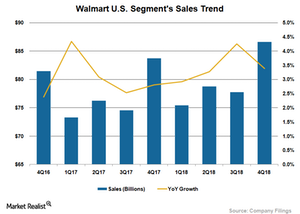 Walmart's US Segment Is a Key Revenue Driver
<p>During fiscal 4Q18, Walmart&#8217;s US segment reported sales of $86.6 billion, up 3.4% on a year-over-year basis.</p>
Sales continue to grow
Walmart (WMT) is generating strong sales in its US segment, which is also its largest business segment by sales and profits. Notably, Walmart US marked 14 consecutive quarters in which its comps marked a YoY (year-over-year) improvement. The segment saw YoY growth in traffic in the past 13 quarters.
During fiscal 4Q18, Walmart's US segment reported sales of $86.6 billion, up 3.4% on a YoY basis due to its 2.6% growth in comps. Walmart US segment's comp traffic grew 1.6%, and its average ticket size improved 1.0% despite the company's strong investments in pricing.
In comparison, both Costco (COST) and Target (TGT) have posted improved store traffic. However, Target's average ticket size is taking a hit from value pricing.
On a two-year stack basis, Walmart US segment's comps improved 4.4%, while its traffic grew about 3%. Walmart is witnessing improvement across all its formats in the US.
Walmart's e-commerce business contributed about 60 basis points to its comps growth rate. Strong growth in food categories, driven by multichannel offerings and traction in online grocery pickup services, drove the segment's top line higher.
Article continues below advertisement
Article continues below advertisement
Sales by categories
Walmart's US segment's grocery sales marked low single-digit growth with strong comps in fresh foods, private brands, and packaged goods. A focus on pricing, quality, and expanded assortments drove the segment's comps higher.
Comps in its health and wellness category registered mid-single-digit growth as seasonally driven demand benefited over-the-counter and pharmacy sales. Inflation in branded drugs is driving its pharmacy business.
Sales of general merchandise grew in the low single digits, driven by increased sales of toys, apparel, and seasonal products.
Outlook
Walmart's (WMT) US business is expected to register a 2.0% growth (excluding fuel) in fiscal 2019. The company's value pricing, expanded assortments, multi-channel offerings and pickup services are expected to drive the segment's sales.