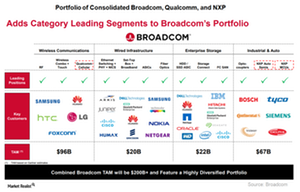 What Mergers and Acquisitions Could Open Up for Qualcomm
Qualcomm and acquisitions
In the earlier parts of this series, we saw that Qualcomm (QCOM) is looking at acquisitions to diversify its revenue streams and boost growth as troubles loom in its core market of smartphones. Although smartphones do present a total addressable opportunity of $100 billion by 2020 as companies move to 5G (fifth-generation), the growing legal headwinds are making it difficult for Qualcomm to leverage this opportunity to the fullest.
Qualcomm is looking to venture into automotive, servers, IoT (Internet of Things), and laptops. However, organic growth in these markets could be slow. Thus, it's seeking to acquire NXP Semiconductors (NXPI), the largest automotive semiconductor company in the world.
Article continues below advertisement
Article continues below advertisement
QCOM+NXP TAM
The integration of NCP could make Qualcomm a leader in automotive electronics, secure payments and identification, IoT, and networking. The combined company could become a one-stop shop for embedded solutions and have a TAM (total addressable market) of $138 billion by 2020.
It may not have any direct competitor since no company currently has such a broad portfolio of embedded products. Samsung (SSNLF) and Texas Instruments (TXN) might come close to competing, but only in a few markets.
AVGO+QCOM+NXP TAM
If Broadcom is added to the Qualcomm-NXP blend, the three companies together would have a highly diversified portfolio ranging from wired and wireless communications to storage to automotive and industrial. The three companies would have several overlaps in wireless chips and ARM CPUs (central processing units), which could bring cost synergies for the combined company.
Qualcomm and Broadcom would leverage NXP's automotive customer base to supply cellular modems, radio chips, fiber optics, and sensors for cars, possibly bringing the TAM to $200 billion.
AVGO+QCOM TAM
Even if the NXP acquisition isn't successful, the combination of Qualcomm and NXP would likely become a leader in communication chips for consumer devices, phone service providers, and data centers. Qualcomm has a 40% share of the cellular modem and smartphone processor market and stands at the forefront of 5G, whereas Broadcom is the largest communications semiconductor company in the world.
The two would have a TAM of $140 billion.
Qualcomm joins other semiconductor companies that have consolidated to broaden their portfolios in order to prepare for the future world of comprehensive chip solutions instead of just semiconductor components.
Next, we'll look at Qualcomm's balance sheet.