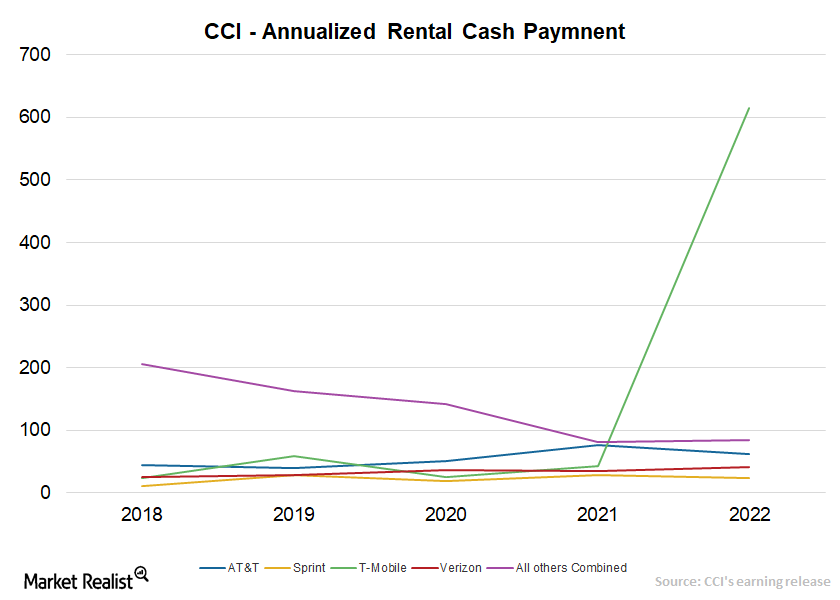 A Look into Crown Castle's Business Model
Major customers
Crown Castle's (CCI) customer base comprises wireless carriers operating in national networks and carriers renting small cell networks, including those of healthcare, education, and government organizations. Crown Castle's key strategy is to acquire large tower clusters and leverage its relationships with carriers in US markets.
Of its fiscal 2017 revenue, it derived 22% from AT&T (T), 20% from T-Mobile (TMUS), 19% from Verizon (VZ), and 15% from Sprint (S). The remaining 23% came from other customers. Crown Castle forms 5.0% of the Legg Mason Global Infrastructure ETF (INFR).
Article continues below advertisement
Article continues below advertisement
Geography
In comparison to major peer American Tower (AMT), which operates on multiple continents, Crown Castle is spread across the United States and Puerto Rico. This coverage gives it a slight edge in domestic markets and has helped it win contracts and maintain relationships with major telecom players. Crown Castle has a larger market share of domestic towers, owning ~60,000 routes miles of fiber in 23 of the top 25 US markets.
Crown Castle's core strategy
To grow, increase cash flow, and increase shareholder returns, Crown Castle acquires strategic land, towers, fiber, and small cells. It also continuously updates its existing communication infrastructure. In 2017, Crown Castle strengthened its position by acquiring FiberNet, Wilcon, and Lightower. It invested ~$9 billion in acquisitions and had ~$1.2 billion in capital expenditure. Crown Castle believes that sharing infrastructure with multiple providers not only reduces costs but also increases efficiency and reduces the time taken to reach customers.