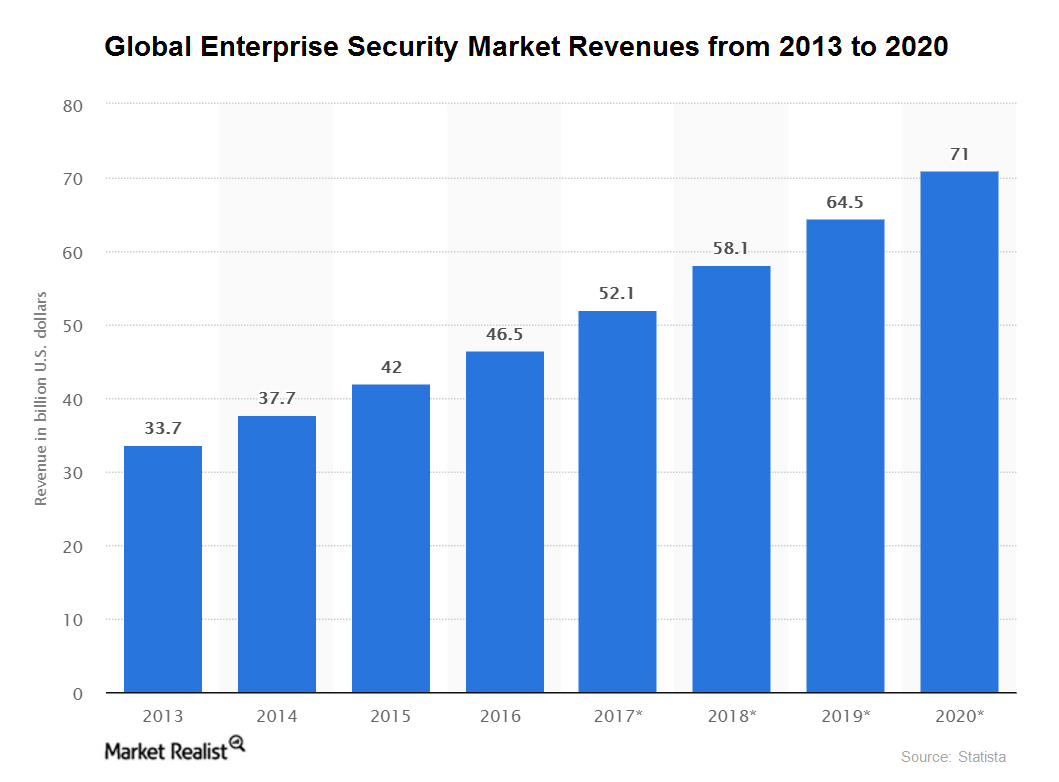 How Symantec Plans to Bring Growth to Its Enterprise Segment
Factors driving growth in global security spending
Earlier in this series, we discussed the performance of Symantec's (SYMC) Enterprise Security segment in fiscal 3Q18. We also discussed the increased adoption of Symantec's Integrated Cyber Defense platform.
Symantec has taken several steps to advance this offering, with the most recent step being a partnership with Oracle (ORCL). This partnership is expected to benefit Symantec, as its Integrated Cyber Defense platform is available in the Oracle Cloud Marketplace. This development is expected to extend the reach of its security offerings.

The rise in sophisticated cyberattacks like the Equifax breach, WannaCry, and Petya—as well as the increased adoption of digital business strategies—are expected to drive global enterprise spending.
These recent attacks and data breaches—especially the Equifax (EFX) attack—increased the demand for LifeLock identity protection, which benefited Symantec (SYMC) in 2017.
Article continues below advertisement
Article continues below advertisement
Huge growth expected in enterprise security market
As the chart above illustrates, the enterprise security market is expected to be worth $58.0 billion in 2018 and can grow to $71.0 billion by 2020. If we consider Gartner's forecasts, global security spending is expected to grow 8% on a year-over-year basis to reach $96.0 billion this year.
Security testing, IT outsourcing, and SIEM (security information and event management) are expected to be among the fastest-growing security subsegments. These subsegments are forecast to drive growth in the infrastructure protection and security services space.
The rapid growth expected in this space has attracted enterprise software companies. Recently, Oracle announced that its next-generation database, Oracle Autonomous Database Cloud, is empowered with a cybersecurity system. Oracle also partnered with Symantec to enable its customers to have access to its cloud offerings and its security solutions.