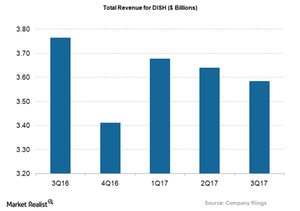 What to Expect of DISH's 4Q17 Revenue
Top line guidance
DISH Network (DISH) will release its 4Q17 earnings before the market opens on February 20, 2018. As per Yahoo Finance (VZ), DISH's revenue in 4Q17 is expected to be $3.5 billion, reflecting an annualized fall of 5.2%. Similarly, for 2017, the company's revenue is expected to be $14.4 billion, a fall of 4.4% YoY (year-over-year).
In 3Q17, the company reported $3.6 billion in revenue, a fall of 4.8% YoY. DISH saw a 4.8% YoY fall in its subscriber-related revenue in the quarter.
In the graph above, we can see the growth of DISH's revenue over the last five quarters. During the period, the company's top line has fallen at a CAGR (compound annual growth rate) of 1.2%.
Article continues below advertisement
Article continues below advertisement
Factors hurting revenue growth in 4Q17
The growing popularity of low-cost video streaming operators such as Netflix (NFLX) and Amazon Prime Video (AMZN), coupled with the changing viewing habits of customers, has led to increased cord cutting.
Changing viewing habits due to the availability of high-speed Internet services has also resulted in muted growth for DISH. In 3Q17, the company stopped serving nearly 145,000 subscribers across the regions of Puerto Rico and the US Virgin Islands due to the impact of Hurricane Maria.
Despite the launch of its OTT (over-the-top) services such as Sling TV in urban areas, DISH lacks a wireless service. Unlike major telecommunications operators such as AT&T (T) and Verizon, DISH has failed to deliver lucrative bundled deals, which include triple- and quadruple-play services at attractive prices.