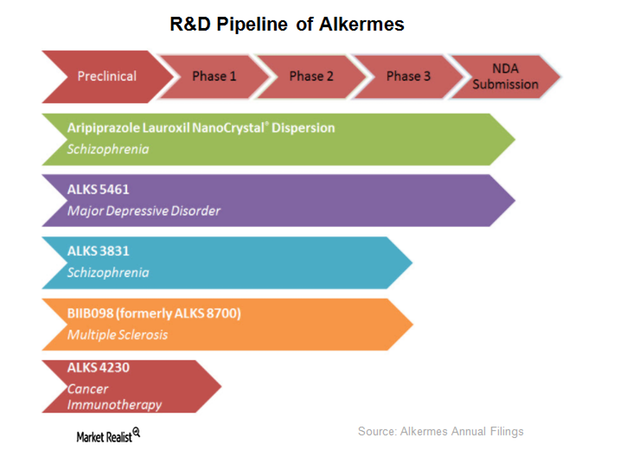 An Insight into Alkermes' R&D Pipeline
<p>Alkermes' ALKS3831 is an investigational oral medicine is targeted for the treatment of schizophrenia. </p>
Target indications
Alkermes' (ALKS) research and development efforts are targeted at developing medications for the treatment of central nervous system (or CNS) disorders like schizophrenia, addiction, depression, and multiple sclerosis.
Article continues below advertisement
Article continues below advertisement
Schizophrenia
Alkermes' investigational product Aripiprazole Lauroxil nanoCrystal Dispersion (or ALNCD) is designed to enable any dose or duration of Aristada injectable suspension for the treatment of schizophrenia. ALNCD uses Alkermes' proprietary NanoCrystal technology.
Alkermes has submitted a New Drug Application (or NDA) to the FDA for ALNCD to be used as an initiation dose for Aristada for treating schizophrenia. The FDA has set a target action date for the NDA of June 30, 2018, under the Prescription Drug User Fee Act (or PDUFA).
ALKS 3831
Alkermes' ALKS3831 is an investigational oral medicine targeted for the treatment of schizophrenia. Alkermes is carrying out the clinical development of ALKS 3831 under the Enlighten program.
The company expects results from the Enlighten-2 study in the fall of 2018 and plans to submit its NDA to the FDA in 1H19.
Article continues below advertisement
Major depressive disorder
Alkermes' ALKS 5461 is an investigational oral medicine for the treatment of major depressive disorder. ALKS 5461 acts as an opioid system modulator. In January 2018, Alkermes completed a submission of its NDA for ALKS 5461.
BIIB098
Alkermes' BIIB098 (formerly called ALKS 8700) is an investigational oral drug under development for the treatment of relapsing forms of multiple sclerosis. In March 2017, Alkermes initiated an elective randomized head-to-head Phase 3 study to compare the gastrointestinal tolerability of BIIB098 to Tecfidera in patients with relapsing-remitting multiple sclerosis.
ALKS 4230
ALKS 4230 is designed to selectively activate and increase the number of immunostimulatory tumor-killing immune cells while avoiding the expansion of immunosuppressive cells that interfere with the anti-tumor response.
Alkermes is conducting a Phase 1 study for ALKS 4230. The study is conducted in a two-stage dose escalation followed by dose expansion. The company expects initial data from the study's first stage in 2018.
In the final part of this series, we'll look at Alkermes' financial performance.