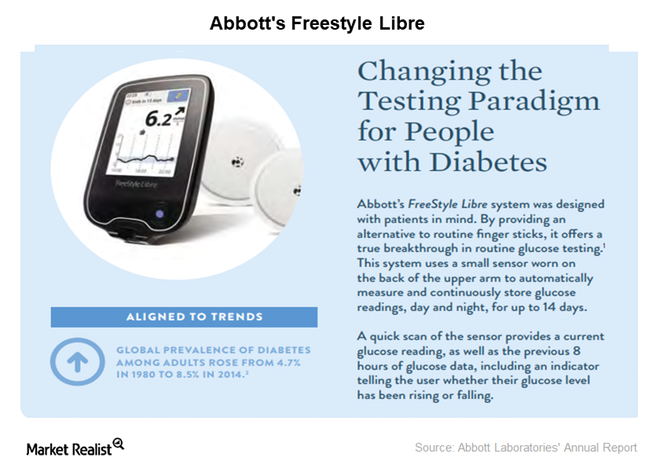 Abbott Laboratories' LibreLink App in Europe
Overview
On February 7, Abbott Laboratories (ABT) announced that it launched its Freestyle Librelink App in Europe. Both iPhone and Android smartphones can access the app. The LibreLink app eliminates the need for diabetes patients in Europe using the FreestyLe Libre to carry a handheld Freestyle Libre reader for glucose results. The previous app, which had been offered to Freestyle Libre users since 2015, was only compatible with Android smartphones.
Article continues below advertisement
Article continues below advertisement
How does the Freestyle LibreLink app work?
Freestyle Librelink App uses patients' phones' NFC (near-field communication). When patients hold their smartphone near the Freestyle Libre sensor, they can access real-time glucose levels and historical levels from up to eight hours ago. They can also add notes to track medication, insulin use, food, and exercise through the app.
Freestyle LibreLink app features
Compared to the Freestyle Libre Reader, the app has enhanced features and capabilities—including a larger display with a higher resolution, text-to-speech capabilities, the ability to log an insulin dose as small as 0.1 units instead of 0.5 units in the reader, and support for 26 languages.
The app can also be used with LibreView and LibreLinkUp, which are part of the Freestyle Libre platform. LibreView is a cloud-based diabetes management systems for sharing patients' health information with healthcare providers. LibreLinkUp is another app that provides remote access to patients' glucose levels for loved ones and caregivers.
The app is available in 12 countries in Europe: Switzerland, Austria, Finland, France, Belgium, Germany, Italy, Spain, Ireland, Netherlands, Sweden, and the United Kingdom. Abbott Laboratories began the launch of the Freestyle Libre in the United States in January 2018, after the FDA (U.S. Food and Drug Administration) approved it in September 2017.