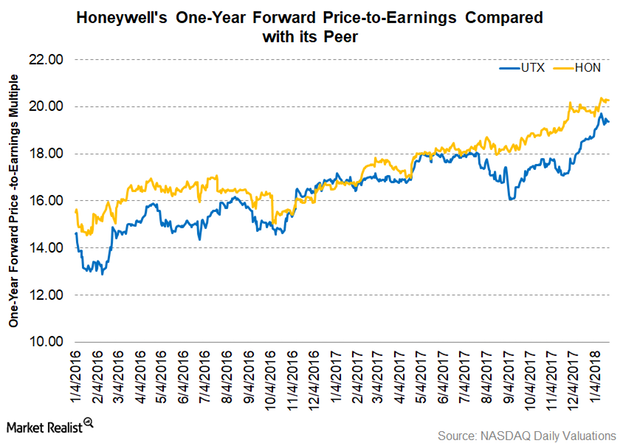 Where Does Honeywell's Valuation Stand Compared to Peers?
Honeywell's forward PE multiple
The strong upward trend in the market has pushed Honeywell's (HON) one-year forward PE (price-to-earnings) multiple to 20.30x as of January 22, 2018. Honeywell's peer United Technologies (UTX) has a one-year forward PE multiple of 19.40x.
The forward PE multiple takes the forecasted future earnings into account for valuation purposes. This helps investors compare two or more companies operating in the same industry based on future earnings and judge which company is overvalued and which company is undervalued.
Article continues below advertisement
HON continues its supremacy over peers
Honeywell continued to trade at a premium to its peer United Technologies. HON predicts earnings per share of $7.55 to $7.80 in 2018. However, analysts have projected HON's 2018 EPS to be at $7.82, which is an increase of 10.2% over 2017's expected earnings per share. The projected growth is expected to be driven by the strong organic growth mainly from its UOP business and aerospace business. Further, HON's continued share buybacks will help to push earnings per share.
On the other hand, analysts have predicted United Technologies' fiscal 2018 earnings per share to grow by 5.3%, which is lower than Honeywell's growth. As a result, HON continues to trade at a premium as compared to UTX.
Investors can indirectly hold HON by investing in the iShares Global Industrials ETF (EXI), which invests 2.5% of its portfolio in Honeywell. The fund also provides exposure to Boeing (BA) and General Electric (GE), which have weights of 3.9% and 2.9%, respectively, as of January 22, 2018.