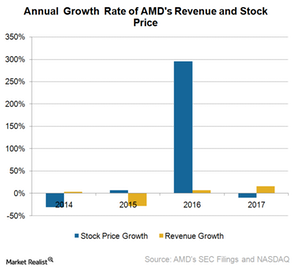 Where AMD Stands Today in the Tech Transition
AMD in technology transition
Advanced Micro Devices (AMD), Intel (INTC), and NVIDIA (NVDA)—the big tech trio—have been the topic of discussion as the technology industry (QQQ) transitions to AI (artificial intelligence) and IoT (Internet of Things). Although AMD is not actively participating in the AI revolution at the level that Intel and NVIDIA are, the former is looking to take its share of the CPU (central processing unit) and GPU (graphics processing unit) markets from the latter two.
Article continues below advertisement
2017 a turnaround year for AMD
Calendar 2017 was a turnaround year for AMD as it moved from losses to profits. Its Computing and Graphics segment posted a profit for the first time in over two years after the company successfully implemented its Ryzen roadmap. Ryzen helped AMD compete with Intel in the high-end PC (personal computer) CPU market.
On the graphics front, AMD did not achieve much success with Vega as its complex design was difficult to manufacture, and there was a supply shortage of memory chips in the industry. Moreover, Vega was not competitive with NVIDIA's Titan GTX1080 GPUs.
Despite these hurdles, AMD benefitted from the cryptocurrency boom, with crypto miners consuming the entire inventory of AMD's GPUs, creating a supply shortage for PC gamers. The recent demand from crypto miners has encouraged Wall Street analysts to increase their earnings estimates for AMD.
However, AMD witnessed a slowdown in demand for game consoles. All these factors are likely to reflect in AMD's upcoming fiscal 4Q17 earnings, which are due to release on January 30, 2018.
Despite all this, AMD's shares fell 9.35% in calendar 2017, and the company's earnings didn't grow as much as investors had priced into the stock in 2016, when it grew 295%.
How 2018 could be for AMD
Calendar 2018 started off with news about a flaw in the design of PC and server processors. On January 2, 2018, the Register reported that Intel's chips were exposed to Meltdown and Spectre security flaws, which have been in the chips for over ten years. AMD and ARM chips were found to be particularly exposed to Spectre.
This news saw Intel's and AMD's stocks move in opposite directions, and analysts were divided on the possible impact of the design flaw on Intel and AMD.
Amid these short-term ups and downs, AMD unveiled a range of Ryzen CPUs, Vega GPUs, and EPYC server CPUs at CES (Consumer Electronics Show) 2018. But it remains to be seen if the combination of AMD's new products and security issues with Intel's chips will help the former regain a larger share from the latter in the PC and server CPU markets.
In this series, we'll examine the factors that are governing AMD's stock price in 2018. Continue to the next part (below) for a closer look at the chip design flaw discussed above.