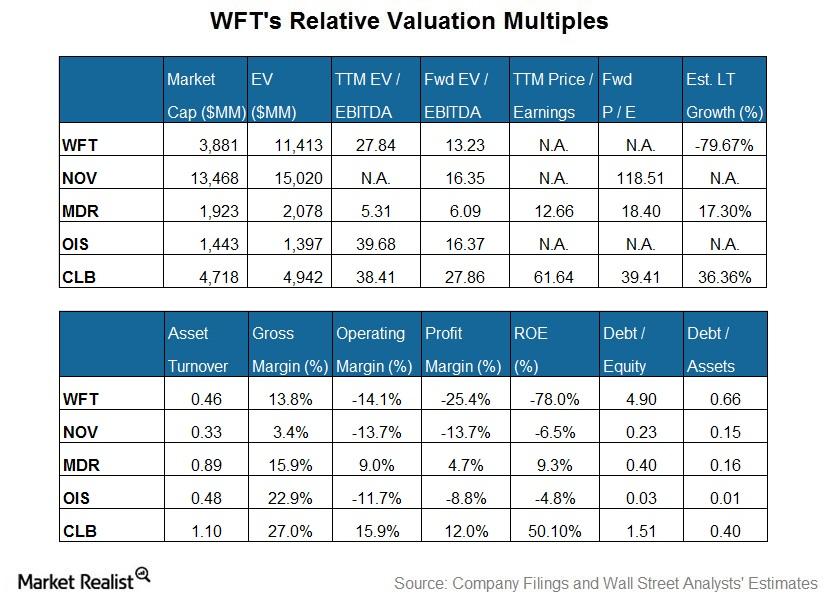 Weatherford International's Valuation Compared to Its Peers
Comparable company analysis
As you can see in the table below, Oil States International (OIS) is the smallest company in the group by market capitalization among our set of select OFS (oilfield services and equipment) companies in this series. National Oilwell Varco (NOV) is the largest of the lot by market capitalization.
Article continues below advertisement
EV-to-EBITDA multiple
Weatherford International's (WFT) EV (enterprise value) when scaled by a trailing 12-month adjusted EBITDA is close to the peer average in our group. WFT's EBITDA is adjusted for non-recurring items such as impairment, severance, and facility closure charges. EV represents the summation of its equity value and net debt.
WFT's forward EV-to-EBITDA multiple compression is higher than the peer average in our group. That reflects analysts' expectations of a higher EBITDA growth compared to most of its peers in the next four quarters. That should typically reflect in a higher current EV-to-EBITDA multiple for WFT compared to its peers. WFT makes up 0.26% of the iShares US Energy (IYE). On December 26, 2017, IYE was 6% higher than its price on September 29, 2017. During that period, WFT has risen 25%, while the S&P 500 Index (SPX-INDEX) has risen 6%.
Debt levels
Weatherford's debt-to-equity multiple is higher than the average. A higher multiple indicates a larger debt load compared to shareholders' equity and indicates increased riskiness. Oil States International has the lowest debt-to-equity ratio in the group.
PE ratio
Weatherford International's forward PE ratio isn't available, reflecting analysts' expectation of a loss in the next four quarters. McDermott International's (MDR) forward PE ratio is the lowest in the group, while National Oilwell Varco's (NOV) is the highest.
Next, we'll see if investors have shown interest in WFT stock as indicated by its short interest.