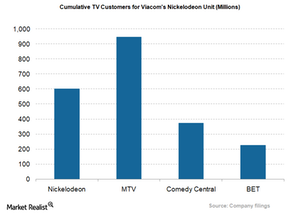 Viacom's Nickelodeon Remains Driving Force for Media Segment
Nickelodeon's growing user base
Viacom's (VIAB) Media Networks segment continues to gain, thanks to the popularity of its Nickelodeon channel and its growing number of followers. The network, which targets kids aged two to 17, witnessed television subscriber growth of 22% to 602 million in fiscal 2017, buoyed by the success of strong content such as Teenage Mutant Ninja Turtles, School of Rock, and SpongeBob SquarePants.
The graph above shows Viacom's major flagship brands' television subscribers in fiscal 2017. At the end of the year, Nickelodeon online properties reported an average of 2.6 million monthly unique visitors. Moreover, the growing popularity of the award-winning Nickelodeon TV Everywhere app has helped the company reach more than 50 million video streams per month.
Article continues below advertisement
Nickelodeon's popularity on social media
The Nickelodeon brand is quite popular on social media platforms Facebook (FB), Twitter (TWTR), and Snapchat (SNAP). In fiscal 2017, it garnered ~249 million followers. Its robust popularity may continue to boost the network's ratings, driving ad revenue for Viacom's Media Networks segment.
The Nickelodeon brand has diversified its business by opening Nickelodeon Resort Punta Cana, licensing intellectual property, and creating a live SpongeBob SquarePants musical production, launched on Broadway in December.
Nickelodeon group has also been involved in film production. To date, it has released 28 movies and has teamed up with Paramount Pictures to launch more films based on popular Nickelodeon characters.