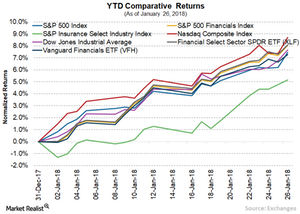 US Banks Are Optimistic about the New Tax Plan
By Peter Barnes

Updated
US banks plan to invest more
Despite the $32.9-billion hit the top five banks took in their fourth-quarter earnings, US banks (XLF) are generally very positive about the new tax plan. Marty Chavez, a finance director at Goldman Sachs (GS), said that the growth in earnings per share and return on equity are long-term positives for shareholders. Marianne Lake, a finance director at JPMorgan Chase (JPM), said the tax plan would help the bank pursue investment opportunities. Paul Donofrio, a finance director at Bank of America Merrill Lynch (BAC), said the companies might be interested in more mergers and acquisitions transactions. He added that the bank would invest and raise more capital.
Article continues below advertisement
JPMorgan Chase's investment plan
In order to take advantage of the new tax law and favorable regulatory environment, JPMorgan Chase announced a $20-billion investment plan. The plan includes raising wages for 22,000 employees by an average of 10%, hiring ~4,000 employees, opening 400 new branches, and expanding its business.
AIG to buy Validus Holdings
With the aim of strengthening its reinsurance business, AIG (AIG) is set to buy property and casualty reinsurer Validus for $5.56 billion in cash. AIG's offer at $68 per share represents a 45.5% premium to Validus' last closing price. AIG will report its 4Q17 earnings on February 8.
Goldman Sachs isn't setting up a bitcoin trading desk
Goldman Sachs (GS) has ruled out previous reports that it's setting up a trading desk for bitcoin and other cryptocurrencies.