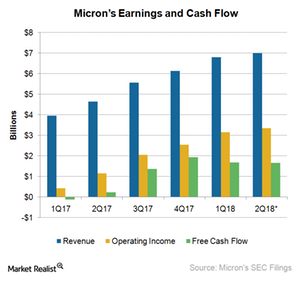 The State of Micron's Cash Flow in Fiscal 2018
Cash flow
Micron Technology's (MU) windfall earnings growth due to increasing DRAM (dynamic random access memory) prices helped it strengthen its balance sheet and cash flows. The company's operating cash flow rose threefold from ~$1.1 billion in fiscal 1Q17 to ~$3.6 billion in fiscal 1Q18 as its operating income rose sevenfold during the same period.
Its FCF (free cash flow) rose more than tenfold from -$126.0 million in fiscal 1Q17 to ~$1.7 billion in fiscal 1Q18. Its FCF could rise further in fiscal 2Q18, as its operating income is expected to increase and its interest expense is expected to decrease during the quarter.
At the NASDAQ 37th Investor Conference, Micron's chief financial officer, Ernie Maddock, stated that the company would remain cash flow neutral or cash flow positive if there is another memory downturn such as in 2016.
In 2016, a DRAM oversupply sent prices crashing. As a result, Micron reported FCF of -$2.6 billion. The company is becoming cost-competitive, and the memory market is improving.
Article continues below advertisement
Capex
To become cost-competitive, Micron is increasing its capital expenditure from $5.0 billion in fiscal 2017 to $7.5 billion in fiscal 2018. It spent $1.9 billion in capital expenditure in fiscal 1Q18.
In 2015, Micron started transitioning to 20 nm (nanometer) DRAM. At that time, it was two to two-and-a-half years behind its competitors. In 2017, Micron ramped up 1X DRAM and is now nine to ten months behind its competitors. In the NAND market, Micron is closer to Samsung with its leading 3D technology.
In 2018, Micron would spend the capital on 1Y DRAM, third-generation 3D NAND, implementation of 3D XPoint, and value-added products. It would also spend some capital on the new assembly and testing facility and packaging facility in Taiwan (EWT). Samsung, Intel (INTC), and SK Hynix are also increasing their capital spending on memory.
Next, we'll look at Micron's cash and debt positions.