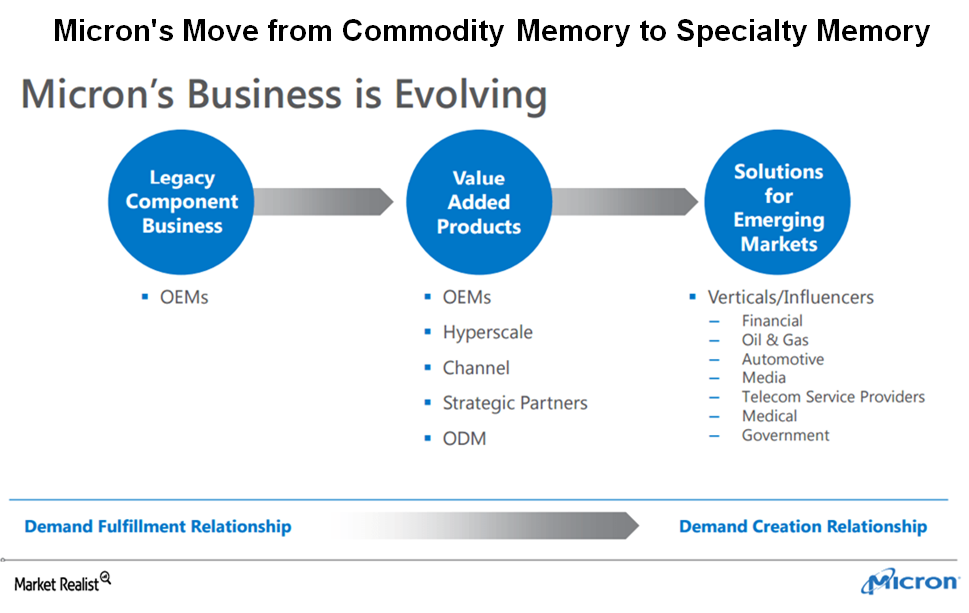 Micron's Strategy to Survive a Memory Downturn
Product strategy
Micron Technology's (MU) CEO, Sanjay Mehrotra, is preparing the company to remain profitable even in a downturn. Mehrotra is shifting away from commodity memory to specialized memory and is offering value-added products.
He gave a snapshot of the company's product plans at the 2017 Analyst Day, commenting that the company has been making successful efforts in this direction.
Article continues below advertisement
Value-added products
During the company's fiscal 1Q18 earnings call, Mehrotra provided an update on some of the value-added solutions Micron has been working on.
NAND
In the NAND (negative AND) space, Micron increased its share in the SSD (solid-state drive) market, which features its 3D NAND memory chip. This ramp-up saw Micron report 61.0% YoY (year-over-year) growth in SSD revenue as more PC OEMs[1. original equipment manufacturers] transitioned from HDDs (hard-disk drives) to SSDs.
Micron is also offering managed NAND and discrete NAND solutions for mobile. Its market share is relatively low in this segment, providing ample opportunity to grow.
Article continues below advertisement
DRAM
On the DRAM (dynamic random access memory) front, Mehrotra stated that the company is offering specialized DRAM solutions for applications such as automotive, graphics, and high-performance computing. NVIDIA (NVDA) uses Micron's GDDR5 (graphics double data rate) DRAM in its graphics cards.
PCs, notebooks, and smartphones are adding AI (artificial intelligence) capabilities, which increases the need for low-power DRAM. This is another area that Micron is developing.
Mehrotra stated that the company could see strong growth from the automotive segment in fiscal 2018 as one of its auto partners rolls out its autonomous car. He stated that more details on the product roadmap would be provided at the 2018 Analyst Day in May.
Hybrid solutions 
Micron (MU) is also developing hybrid solutions. In fiscal 1Q18, Micron introduced its 32 GB (gigabyte) NVDIMMN (nonvolatile dual in-line memory module), which is a combination of its DRAM and NAND products. The NVDIMMN is a persistent memory solution that can handle intense data analytics workloads. It is currently securing a design win for this solution from enterprise and cloud customers.
Micron is also looking to develop high-value product solutions from its 3D XPoint technology, which delivers the benefits of both DRAM and NAND. Intel (INTC), which developed the 3D XPoint technology in collaboration with Micron, has already launched two products based on this technology under the Optane brand.
Next, we'll look at Micron's wafer manufacturing strategy.