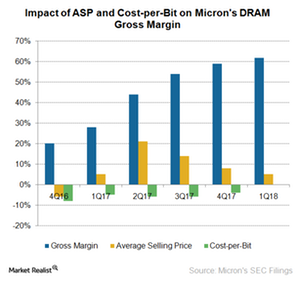 Micron's Strategy to Improve Its DRAM Gross Margin in 2018
DRAM gross margin
The strong DRAM (dynamic random-access memory) market environment has been driving Micron's revenue for the past five quarters. According to its latest earnings report, Micron's (MU) DRAM revenue rose 88% YoY (year-over-year) in fiscal 1Q18.
Micron's non-GAAP (generally accepted accounting principles) gross margin from DRAM more than doubled from 28% in fiscal 1Q17 to 62% in fiscal 1Q18. In dollar terms, its gross profit rose fourfold from $678 million to $2.8 billion during the same period.
Gross margin is a function of ASP (average selling price) and cost per bit. Micron's DRAM ASP rose between 21% and 24%, and its cost per bit fell ~20% during the same period as it ramped up production on 1X DRAM.
Article continues below advertisement
DRAM output growth
Micron expects to achieve bit crossover on 1X DRAM by the end of 2018. Bit crossover is achieved when the percentage of total output from a new node surpasses the output from the previous node. Micron also expects to start initial production of 1Y DRAM in 2H18. The company's DRAM output growth will come mostly in fiscal 1H18, as the transition to 1Y will likely slow its output growth.
Micron expects its DRAM supply growth to be lower than the industry's 20% growth in fiscal 2018. Rival Samsung's (SSNLF) DRAM bit supply may increase faster than Micron's, as the former has already started mass producing 1Y DRAM.
Micron's future growth in DRAM
While transitioning to advanced nodes, Micron is also focusing on launching high-performance memory solutions. It has already launched specialized memory solutions for autonomous cars, which it will ship to various customers in 2018. One of its biggest customers will be NVIDIA (NVDA), which in its fiscal 3Q18 earnings stated that it would start rolling out its DRIVE PX 2 automotive AI (artificial intelligence) platform in some models.
Micron is also focusing on developing a high-margin HBM (high-bandwidth memory) solution ideal for AI applications that require huge data computational capacities and low power consumption. Micron expects HBM adoption to grow at a CAGR (compound annual growth rate) of over 50% between 2017 and 2022.
Next, we'll take a look at the NAND (negative AND) market.