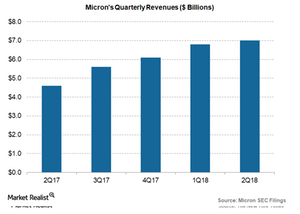 Why Did Micron Sue Chinese Companies over DRAM Technology?
Micron filed lawsuit over patent rights
On December 5, 2017, Micron Technology (MU) filed a lawsuit against United Microelectronics Corporation (or UMC) and Fujian Jinhua Integrated Circuit Co. (or JHICC) in the United States District Court for the Northern District of California. The lawsuit alleges infringement on its DRAM (dynamic random access memory) patents and intellectual property rights.
The lawsuit states that two former employees of Micron Technology shared the company's DRAM technology with Taiwan-based UMC, which planned to partner with JHICC in technical cooperation. JHICC is a leading DRAM manufacturer in China (MCHI) (FXI).
"The misappropriation of the Micron trade secrets has caused and will continue to cause Micron irreparable and substantial injury," stated Micron's lawsuit. UMC's response states that it does not allow its employees to use other companies' intellectual property.
Article continues below advertisement
Repercussions from Micron's lawsuit
Micron's lawsuit can negatively impact JHICC's fabrication and can delay memory chip manufacturing in China, which is scheduled to begin in 2H18 or 1H19. UMC and JHICC may face additional damages if and when they release their DRAM chips.
DRAM technology to boost revenues
Micron (MU) has been generating significant revenues backed by its exposure to DRAM technology. In fiscal 1Q18,[1. fiscal 1Q18 ended November 2017] Micron's revenues increased 11.0% to $6.8 billion on a sequential basis. The company reported subsequent double-digit growth for six consecutive quarters.
Micron's revenues were driven by strong DRAM demand in the CG (computer graphics) segment. The company is focused on increasing its DRAM exposure with the acquisition of Nanya Technologies.
The DRAM market is dominated by three suppliers—Samsung (SSNLF), SK Hynix, and Micron Technologies—commanding more than 90% of the market share.