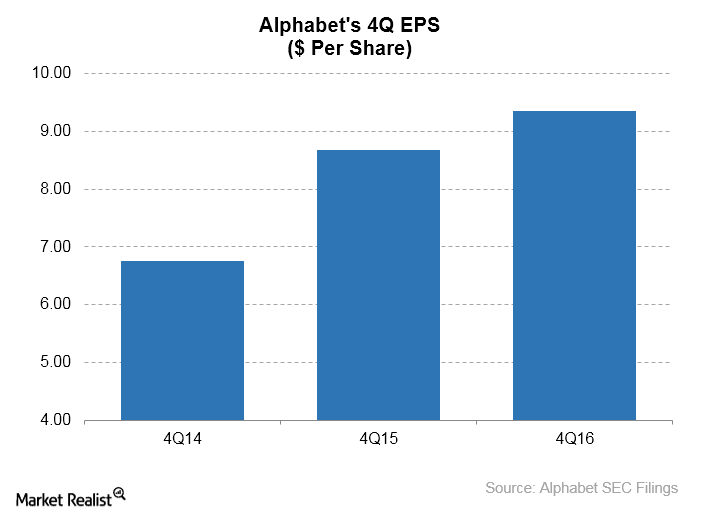 A Look at Alphabet's Growth in 4Q17
Alphabet's revenue and earnings grew in 4Q16
Google parent Alphabet (GOOGL) is scheduled to release its 4Q17 earnings results on February 1, 2018, ahead of industry peers Twitter (TWTR), Yelp (YELP), and Snap (SNAP). Alphabet's upcoming earnings report is for the three months that ended December 31, 2017, also known as the holiday quarter, a usually busy period for companies.
In 4Q16, Alphabet reported revenues of $26.1 billion, representing an increase of 22% YoY (year-over-year). Growth was 18% YoY in 4Q15. Its 4Q16 EPS (earnings per share) was $9.36 compared to $8.67 in 4Q15.
The chart above shows Alphabet's fourth-quarter EPS trend for the last three years.
Article continues below advertisement
Revenue growth accelerating
In the last three years, Alphabet has reported fourth-quarter revenues and EPS that have consistently improved year-over-year. Fourth-quarter revenue growth also accelerated in the last three years. The 22% YoY revenue growth in 4Q16 picked up pace from 1an 8% YoY growth in 4Q15, which also accelerated from a 15% YoY growth in 4Q14.
For Facebook, Twitter, and Yelp, 4Q16 revenues rose 51%, 1%, and 27% YoY, respectively.
Mixed earnings track record
While Alphabet's fourth-quarter financial performances have generally been improving year-over-year, its EPS track record has been a little mixed in the last three years compared to the consensus estimate. Alphabet's EPS of $9.36 in 4Q16 missed the consensus estimate of $9.65. The company topped EPS expectations in 4Q15 but missed them in 4Q14.
For 4Q17, the consensus estimate calls for Alphabet to post EPS of $9.99.