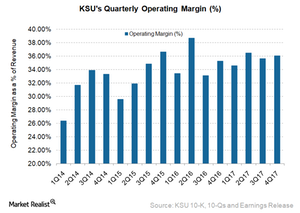 How Kansas City Southern Delivered on 4Q17 Operating Margins
Kansas City Southern's 4Q17 operating margin
In 4Q17, Kansas City Southern (KSU) reported an improvement of 80 basis points in its operating margin, which rose to 36% from 35.2% in 4Q16. Revenue rose 10.3% in 4Q17, and its operating expenses rose 9%.
The company's operating income rose 12.8% from $210.9 million in 4Q16 to $237.8 million in 4Q17.
Article continues below advertisement
Article continues below advertisement
Operating expenses in 4Q17
In 4Q17, Kansas City Southern's compensation and benefits expenses rose 5.9% to $122.2 million, from $115.4 million in 4Q16. An increased year-over-year employee base and higher wage inflation led to the rise in employee-related expenses.
Fuel was the second-highest expense at $81.7 million, a 20.5% increase from $67.8 million in 4Q16. Higher fuel consumption along with a rise in fuel prices increased these expenses in 4Q17. The Mexican fuel excise tax credit was $5 million lower in 4Q17, creating pressure on the company's operating margin. Purchased services expenses were $47.2 million in 4Q17 compared to $49.4 million in 4Q16.
Management outlook
For 2018, Kansas City Southern expects the Mexican excise tax credit to be $35 million. The company expects depreciation expenses to be $360 million compared to $320.9 million in 2017. KSU believes head count growth in 2018 will stay below the carload and volume growth. The railroad's positive train control operating expenses are expected to be $32 million in 2018, which is substantially higher than last year's level.
US Class I railroads' (UNP) (NSC) bottom lines are expected to grow considerably year-over-year in 2018. However, they're also likely to face tough challenges in retaining or growing their existing operating margins. Many investors could focus more on what's above the operating income line than the bottom line. That could help segregate railroads with solid fundamentals from those boosting net profits from one-time gains.
All the US-originated Class I railroads (BRK.B) make up 4.5% of the portfolio holdings of the iShares Global Industrials (EXI).
Next, we'll take a look at analysts' recommendations for Kansas City Southern after its 4Q17 results.