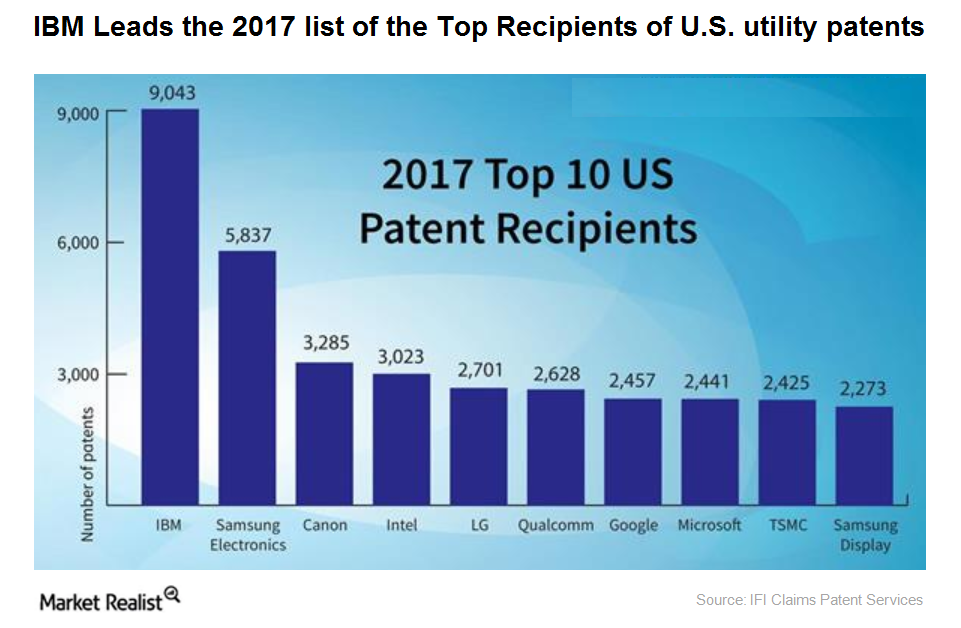 IBM Led Peers in Patents in 2017
IBM was awarded most patents in the US for 23rd year
Earlier in the series, we discussed IBM's improved position in the cloud space due to its prowess in the hybrid cloud space. Although IBM (IBM) was a little slow to realize the importance of cloud in the dynamically changing IT landscape, it now holds the title of being the company with the most patents for 25 consecutive years.
According to IFI CLAIMS Patent Services, IBM with a record 9,043 patents was the top US patent recipient in 2017. IBM received 1,900 patents for cloud-related technology, 1,400 for AI (artificial intelligence), and 1,200 for cybersecurity. All these patents could give IBM's strategic imperatives an edge over its peers.
Article continues below advertisement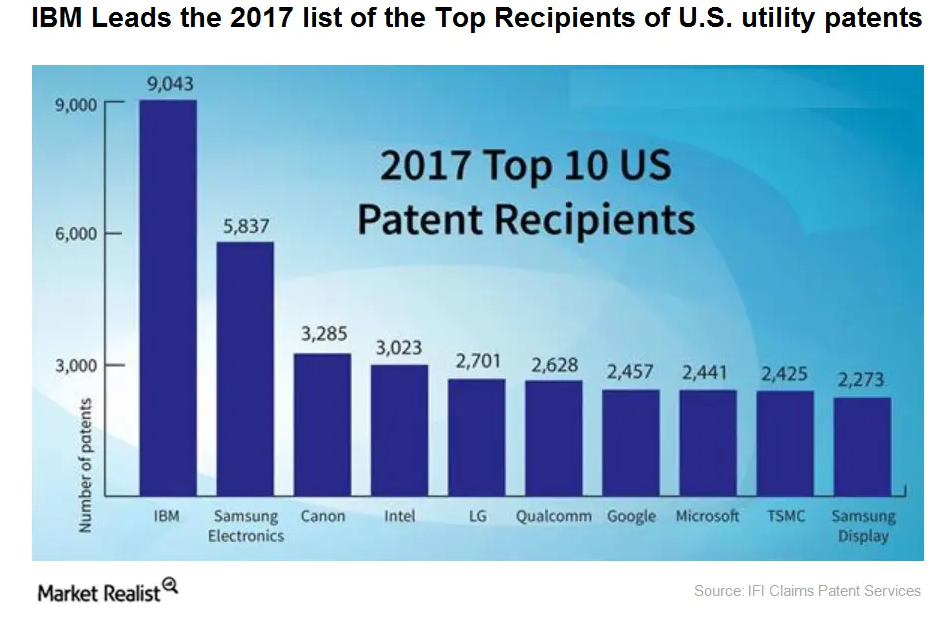 Mike Baycroft, CEO, IFI CLAIMS Patent Services, said, "2017 was an impressive year for U.S. patents." He added, "We're seeing twice as many patents generated today as there were a decade ago. We're seeing IBM nearly tripling its annual patent counts by going from 3,000 plus in 2007 to breaking the 9,000 mark this past year." With 12% growth on a YoY basis in 2017, IBM has now exceeded 100,000 US patents issued from 1993 to 2017.
US patent landscape in 2017
IBM was followed by Samsung (SSNLF), which came second with 3,300 fewer patents than the leader. Canon, Intel (INTC), and LG Electronics held third, fourth, and fifth positions, respectively, on the list. IBM's peers in the cloud space, Google (GOOG) and Microsoft (MSFT) with 2,457 and 2,441 patents, occupied seventh and eighth positions, respectively.
With a 46% share of grants worldwide, the US was first in the patent landscape, followed by Asia with a 31% market share. Europe held a 15% share. A breakdown by country revealed that Japan held 6% of US grants, South Korea held 6.5%, and Germany held 5%. Mainland China held 3.5%.