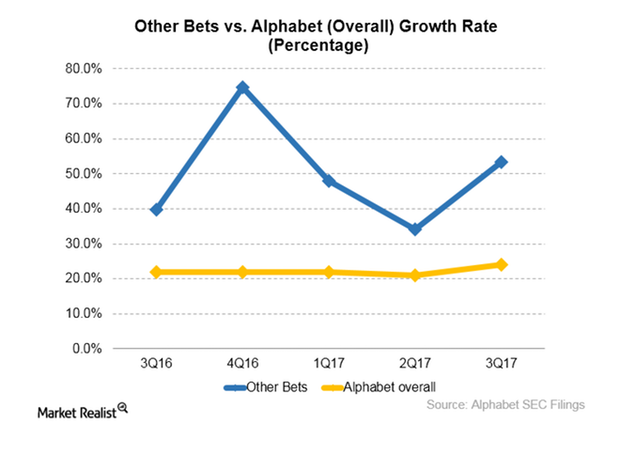 How Alphabet Is Diversifying Its Business
Alphabet is launching its 13th unit
Alphabet (GOOG) announced on January 25, 2018, that it is launching its 13th unit—cybersecurity company Chronicle. Chronicle aims to sell cybersecurity services to other companies, helping them detect and fight hackers.
Chronicle hopes to utilize its parent company's technology to help other companies run analyses more quickly, as well as to increase storage capacity in order to recognize critical patterns.
Article continues below advertisement
Alphabet sees robust growth in Other Bets segment
In 3Q17, Alphabet (GOOG) generated revenues of $302.0 million in its Other Bets segment, which includes Google's siblings. The revenue from Other Bets rose more than 53.0% YoY (year-over-year) in 3Q17. Alphabet's overall revenues in 3Q17 came in at $27.8 billion, up 24.0% YoY.
Alphabet stock has risen 10.0% year-to-date and more than 40.0% in the last 12 months. The tech giant is expected to report its 4Q17 earnings on February 1, 2018.
Chronicle is an example of how Alphabet is diversifying from its main business to find more avenues of growth in upcoming areas. Alphabet's Other Bets segment includes its AI (artificial intelligence) firm, DeepMind; its autonomous vehicle unit, Waymo; and its life-extension lab, Calico. So far, none of these other businesses represent a sizeable portion of Alphabet's revenues.