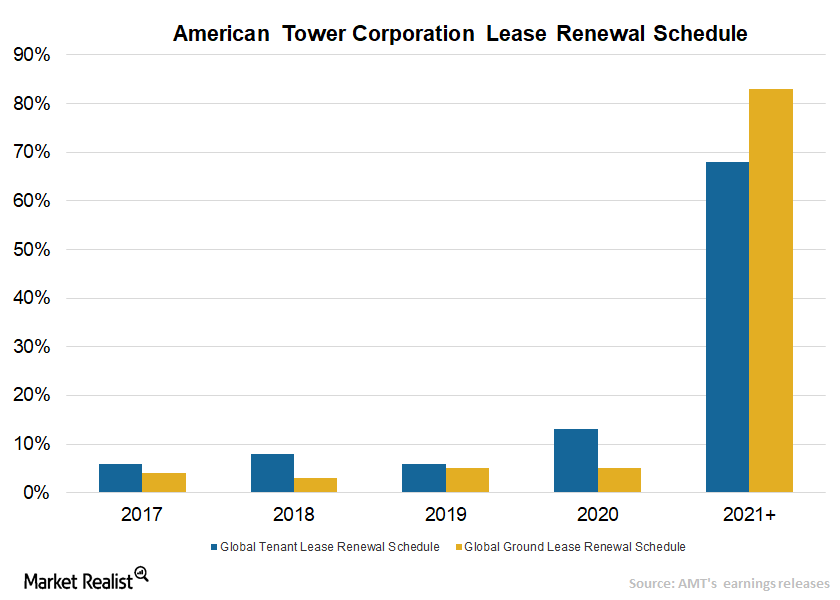 These Factors Are Helping American Tower's Growth
Mobile data and wireless industry
American Tower (AMT) stated in its 3Q17 earnings call, "According to Cisco, the average U.S. smartphone now consumes more than 4.4 gigabits of data per month, a 33% increase from just one year ago." The increase is mainly due to video consumption, which has increased due to unlimited data plans offered by all major US wireless carriers. That's the primary driver for property revenue and AFFO (adjusted funds from operations) growth.
Data usage is also increasing in international markets due to smartphone penetration. Data usage is expected on average to increase 50% by 2021 in Mexico, India, Brazil, South Africa, and Nigeria. AMTs tenant base continues to invest a large amount of money to keep up with the pace.
Article continues below advertisement
Article continues below advertisement
Technological advancements
Technological advancements such as Cloud Ran, software optimized networks, and others have helped operators reduce costs over the last few years, which has helped AMT, Realty Income (O), SBA Communications (SBAC), and Crown Castle International (CCI) sustain their investments.
Development in mobile technology
An increase from 2G (second generation) to 4G (fourth generation) has improved spectral efficiency and other technical factors, which have helped in cost reduction. 5G is expected to continue that trend and increase new opportunities.
Real estate asset
Along with the technological evolution, real estate assets in optimal locations have been a critical component in wireless services in both 4G and 5G (fifth generation). According to AMT, real estate rights and tenant contracts are the drivers of the industry.
AMT has obtained real estate franchise rights to 150,000 macro towers and hundreds of indoor and outdoor venues in 16 countries, which it considers one of its core competencies. AMT makes up 4.4% of the ProShares Ultra Real Estate (URE).