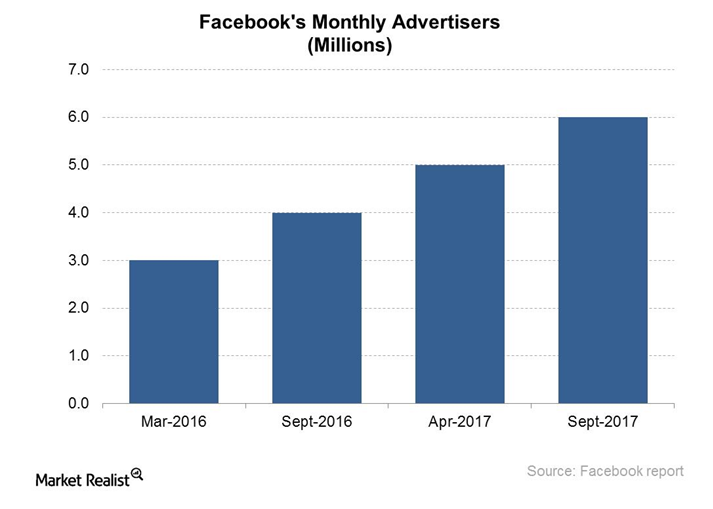 Facebook's Innovation and Product Development Avalanche
Facebook launching new products almost daily
In 3Q17, Facebook (FB) spent roughly $2.1 billion on product development, compared with a little over $1.9 billion in 2Q17 and ~$1.5 billion in 3Q16. The company's innovation budget has been swelling steadily in recent years, with product development spending rising from $1.4 billion in 2013 to $5.9 billion in 2016.
What are the results of Facebook's active focus on innovation? The company is launching new advertising products almost daily, and it is introducing new targeting capabilities on a weekly basis.
Article continues below advertisement
Article continues below advertisement
Facebook says innovation is about better solutions
Facebook's chief marketing officer, Gary Briggs, addressed this issue at a recent technology summit organized by Wells Fargo. Briggs noted that the pace at which Facebook is introducing new advertising solutions is in the best interest of marketers, as they can capitalize on new products to generate better returns.
Briggs revealed that Facebook considers its new products carefully before it rolls them out because it works closely with marketing partners in the evaluation of any new product.
Building a leading online advertising platform
Given the stiff competition it faces from Alphabet's (GOOGL) Google, Twitter (TWTR), Snap (SNAP), and Yelp (YELP) for online advertising budgets, Briggs said that behind Facebook's innovation is a goal to build a robust online advertising platform. Facebook had more than 6.0 million monthly advertisers at the end of September 2017, up from the 5.0 million advertisers it disclosed in April.