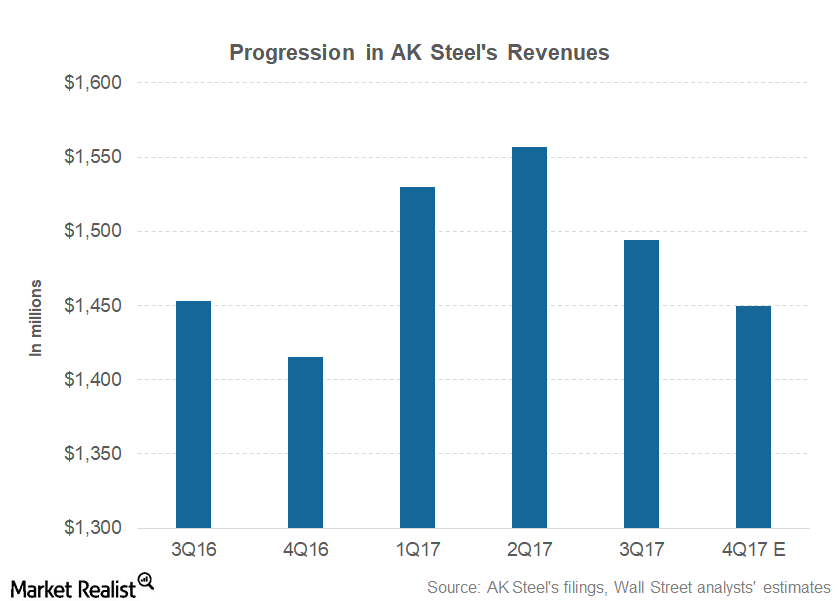 What Could Drive AK Steel's 4Q17 Financial Performance
AK Steel's 4Q17 financial performance
AK Steel's (AKS) 4Q17 earnings results are expected on January 30. In this article, we'll see what analysts are projecting for AK Steel's 4Q17 revenue. We'll also look at what could drive AK Steel's 4Q17 financial performance.
According to analyst estimates compiled by Thomson Reuters, AK Steel is expected to post revenue of $1.45 billion in 4Q17. The company posted revenue of $1.49 billion in 3Q17 and $1.42 billion in 4Q17. Analysts expect AK Steel's 4Q17 revenue to fall 2.2% from 3Q17. Steel production peers (CLF) (MT) U.S. Steel Corporation (X) and Nucor are also expected to post sequentially lower revenue in 4Q17. Let's see what factors could drive AK Steel's 4Q17 revenue.
Article continues below advertisement
Key drivers
Steel companies' revenue is a function of shipments and average selling prices (XME). Between 3Q17 and 4Q17, AK Steel expects its shipments to fall. During its 3Q17 earnings call, AK Steel noted that "the shipments into the automotive market are expected to be slightly lower, as OEMs and Tier 1 suppliers continue to balance inventory levels with demand. In addition, we expect lower shipments to the infrastructure and manufacturing market as customers manage year-end inventory levels." AK Steel also expects its flat-rolled average selling prices to fall slightly between 3Q17 and 4Q17.
A combination of fewer shipments and lower average selling prices are expected to drag down AK Steel's 4Q17 revenue. However, 4Q17 will be the first complete quarter in which AK Steel reports revenue from its Precision Partners acquisition. Precision Partners revenue should help AK Steel offset any impact from its steel mill operations. In the next article, we'll look at what could drive AK Steel's 4Q17 profitability.